Whether you're tired of cooking on cramped work surfaces or constantly darting backwards and forwards just to prepare simple meals, it's not hard to see why your kitchen layout is so important. And when an opportunity to solve your kitchen woes presents itself, you'll no doubt be wondering exactly which kitchen layout is the best? The answer is that it depends. Many factors will influence your choice of layout, from how you intend to use your kitchen to the dimensions of your space. That said, most kitchens fall into one of six categories. Below, we've outlined the six most popular kitchen layouts as well as some handy kitchen planning tips to help you transform your space.
The Galley Kitchen Layout
Galley kitchens get their name from the narrow kitchens found aboard ships and trains. Consisting of two parallel runs of cabinetry, they make highly efficient use of space. Unfortunately, their compact size and association with older houses can put people off. Keeping one wall free of overhead cabinets or tall units will make a galley kitchen feel more open. If you have a long, narrow space, a galley kitchen is probably the best practical solution.
 The One-Wall Kitchen Layout
One-wall kitchens are ideal for studio flats and smaller open-plan spaces. Much like galley kitchens, they make a lot out of a little. They can free up much-needed floor space while still providing everything required for efficient cooking. Don't forget to think vertically when it comes to storage. Despite their size, this clean and streamlined layout can look very stylish.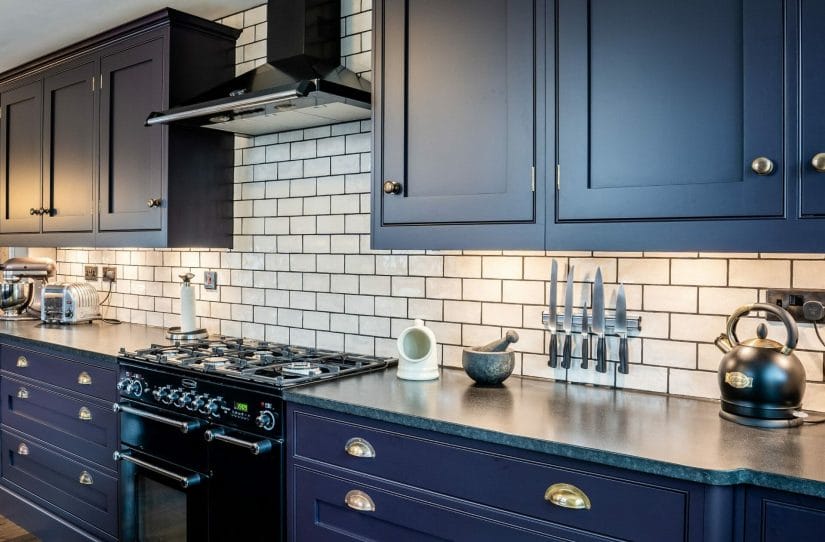 The Island Kitchen Layout
Island kitchens are more popular now than ever before, and it isn't hard to see why. As well as offering extra storage and worktop space, islands can help you achieve the ideal work triangle. They also create a fantastic focal point for open-plan interiors. Kitchen islands can be paired with a single wall or L-shaped layout to create a practical walkway, similar to that of a galley kitchen.

The L-Shaped Kitchen
Featuring two perpendicular runs of cabinetry, L-shaped kitchens make an excellent practical choice for small and large kitchens alike. Similarly to a one-wall kitchen, an L-shaped kitchen will open up your floor space, giving you great flexibility. There are plenty of options for arranging appliances and even room for multiple cooking zones and chefs.

The U-Shaped Kitchen Layout
As the demand for open-plan living has increased, traditional U-shaped kitchens have become less popular. The classic U-shaped kitchen would line three walls of a room, establishing the perfect ergonomic working triangle. Though this layout delivers on functionality, it can feel a little enclosed. A U-shaped kitchen featuring a peninsula makes an excellent, much more open modern alternative.

The Peninsula Kitchen
Peninsulas make a great space-efficient substitute for a kitchen island. They are created by bringing a run of cabinetry into the room at a right angle to the wall. Like kitchen islands, they provide additional space for storage and appliances while establishing a boundary between cooking and social zones.

What Is The Work Triangle?
Earlier on in this article, we mentioned something called the work triangle. The work triangle relates to the position of your sink, hob and fridge. Arranging these features between 1.2m and 2.7m apart in a roughly triangular layout without interruptions is considered ergonomically ideal. It should prevent your kitchen from feeling cramped while ensuring you don't have to travel too far between key appliances. It can help to bear the work triangle in mind when planning your kitchen layout. However, you shouldn't let it prevent you from introducing other essential design features.
Consider Reducing Corners
Corners are less than ideal for preparing food or storing ingredients or utensils. Therefore, if you're torn between a few potential layouts, choosing the option with the fewest corners might be your best bet.
Aim To Avoid Traffic
The last thing you need when you're trying to cook is people getting under your feet. To avoid this, make sure your kitchen doesn't intersect any major walkways. You might even consider positioning your fridge or snack cupboard towards the outskirts of your layout to minimise interruptions.
Create Individual Zones
Planning your kitchen around functional zones is a great way to streamline your space. Your zones might include a food prep area featuring easy access to chopping boards, knives and fresh food. Even something as simple as positioning your kettle, mugs and tea bags in a similar place can make your life easier!
The six popular kitchen layouts mentioned above offer an excellent solution to a variety of spaces. However, which is best for you will depend on your individual requirements. Though we hope our article sheds some light on the process behind planning a kitchen layout, finding the best design to maximise your space can be tricky. It's always worth discussing your options with an experienced kitchen design professional. If you'd like to talk to our team, we'd love to hear from you. You can get in touch by calling 01435 866166 or emailing sales@hks-uk.com.