Handleless Kitchens in Sussex
Bring a sleek contemporary look to your Sussex home by choosing from our huge range of innovative and stylish handleless kitchens.
Innovative Modern Handleless Kitchens
Our ultra-modern handleless kitchens are incredibly popular with our Sussex clients. Their clean good looks offer impressive versatility, while their innovative design epitomises superb functionality. Unlike traditional kitchen styles, handleless kitchens have been specifically developed to complement modern living, creating a practical and breathtakingly stylish backdrop to our busy lifestyles.
Handleless kitchens originate from Germany, where, over the past sixty years, this more efficient kitchen style has been continually refined and developed into something highly sought-after around the world. The use of uninterrupted lines, clean edges, and minimal detail is incredibly pleasing to the eye, but don't be fooled by their alluring linear design — handleless kitchens represent some of the most practical, well-engineered products on the market. With uncompromising precision and cutting-edge innovation behind every door and drawer, you'll find our exceptional handleless kitchens offer unrivalled practicality. If you're looking for flawless style, outstanding functionality, and impressive durability, our stunning handleless kitchens can't be beaten.
Versatile Sussex Kitchens
Whether you simply adore minimal styling and unfussy elegance or intend to create a showstopping centrepiece to your Sussex home, our handleless kitchens offer something for everyone. Their modular design concept reflects impressive design flexibility, so if you're after a large helping of 'wow factor' or something more subtle and understated, you can rest assured you'll find exactly what you're looking for.
At HKS Interiors, our collection includes a wonderful variety of different colours, finishes and styles. After over 40 years of designing and installing stunning Sussex kitchens, we recognise that everyone's tastes are unique, and that's why we've taken great care to ensure our handleless kitchen range caters to all styles. Our professional expertise combined with our versatile collection will ensure you receive a handleless kitchen that is even better than you could have imagined.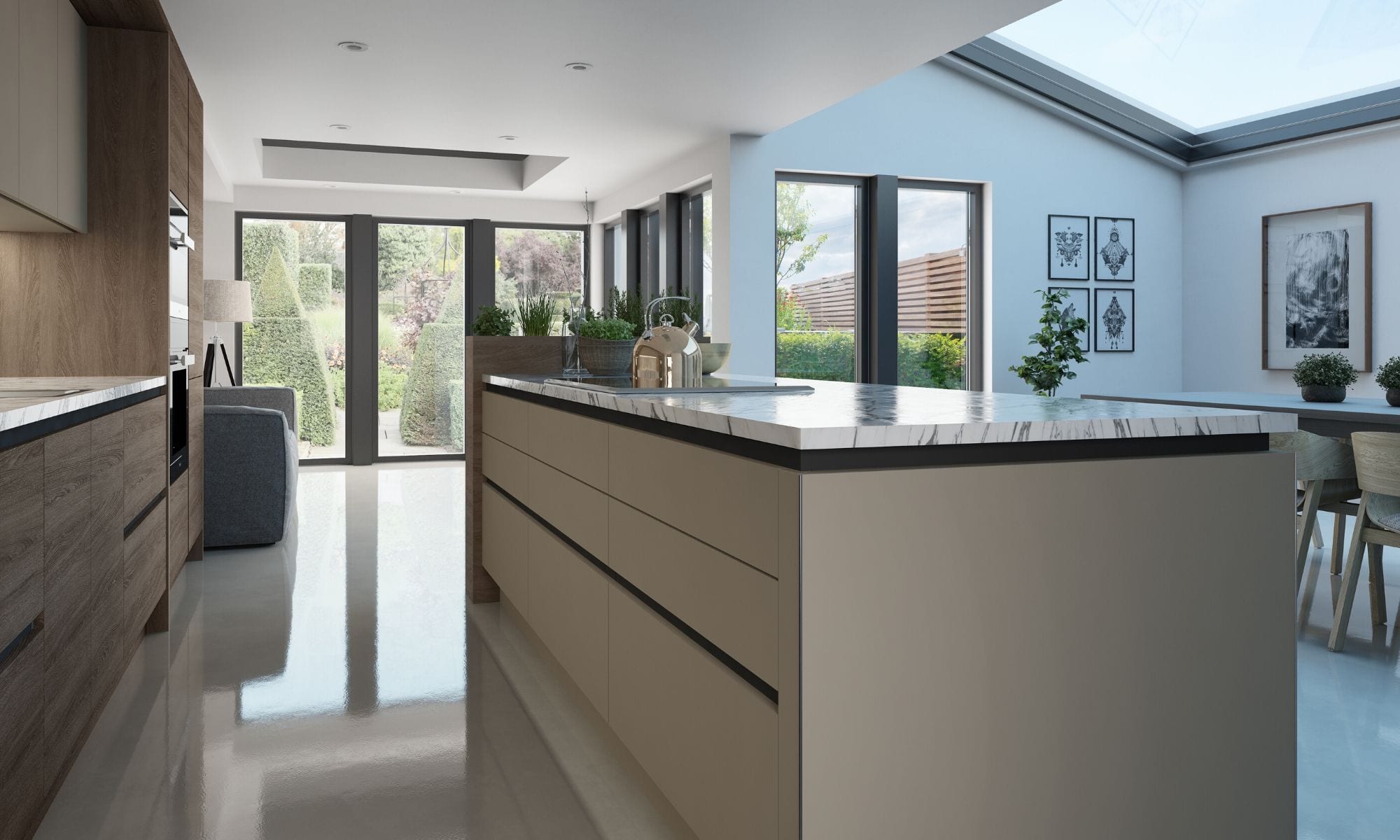 "A few years ago Gary helped us whith our kitchen renovation. We were very pleased with the expert advice and help we got from Gary and Lloyd at HKS. We have recommended this business a few times and all our friends who went through HKS were equally pleased with the advice and service."
"Lloyd, Gary and Paul have given us outstanding customer care over many years and should there be any matters to which we need to attend they are always available to offer their professional help and advice. An immensely impressive team at a wonderful local company. Unreservedly recommended."
"We were impressed with the entire operation: noting our requirements and producing a design that not only met our needs and budget but also looked great; the services of competent workers who efficiently completed each stage of the project; consistent management and supervision of the entire process; immediate attention to the small number of snags that arose. We are delighted with the result. Very many thanks."
Experience Our Handleless Kitchens At One Of Our Sussex Showrooms
Our handleless kitchens are a little different from the traditional kitchens you may be used to seeing and using. And thus, we recommend trying them out for yourself to get a feel for their effortless ergonomics and clever practical features. From ingenious pull-out larder systems to sturdy drawers, our handleless kitchens offer plenty of practical solutions to make everyday living that much easier. Experiencing our designs in person is undeniably the best way to appreciate their impressive functional capabilities as well as their breath-taking style.
You can find a wonderful selection of handleless kitchens on display at one of our three Sussex showrooms. Our beautiful displays showcase a range of colours, finishes and cutting-edge appliances to help you envisage transforming your space. During your visit, our knowledgeable team will be on hand to share their advice and expertise. They would be more than happy to discuss the ideas you have for your Sussex project. Our showrooms are situated in Heathfield, Haywards Heath and Eastbourne. For more information, please click here.
Find Your Perfect Handleless Kitchen...
Our dedicated team would love the opportunity to help you find your perfect handleless kitchen. We take great pride in our hassle-free comprehensive service. Take the next step on your kitchen design journey by clicking below to book an appointment at your nearest showroom.