In-Frame Kitchens in Sussex
Browse through our range of expertly-built in-frame kitchens. Taking design inspiration from days gone by, these kitchens have a proud English heritage.
Browse through our range of expertly-built in-frame kitchens. Taking design inspiration from days gone by, these kitchens have a proud English heritage.
Charming, Elegant & Long-lasting Kitchens
Our exquisite in-frame kitchens are designed and built to exacting standards. Drawing inspiration from kitchens of old, they are crafted by hand using the very same time-honoured carpentry techniques that have been used by master cabinetmakers for hundreds of years. These kitchens differ from other traditional designs in that the doors and drawers are surrounded by a wooden frame. The sturdy frame gives impressive structural integrity to the carcass whilst creating a stunning design feature.
Our beautifully crafted, classic in-frame kitchens combine unrivalled durability with characterful looks to create something truly spectacular. Based on a design that has graced some of the very first kitchens in England, an in-frame kitchen will undoubtedly stand the test of time. Whether you're envisaging a cosy family space to enjoy a laidback Sunday roast in or a dramatic and sophisticated interior that's envied by every guest, our wonderful in-frame kitchens make a fantastic choice.
Timeless In-Frame Kitchens Sussex
Before fitted kitchens became commonplace, most kitchens were comprised of several freestanding cabinets and dressers. These would have been built by a cabinetmaker in the traditional in-frame style. During the 1940s, technology moved on, and new methods of manufacturing were introduced, making more cost-effective solutions accessible.
Unlike modern lay-on door kitchens, in-frame kitchens provide extraordinary durability and longevity. The rigid frame attached to the front of the cabinet gives superior strength to the unit. The in-frame style is synonymous with quality and charm and will undoubtedly create a captivating focal point to the heart of your home that's sure to last a lifetime.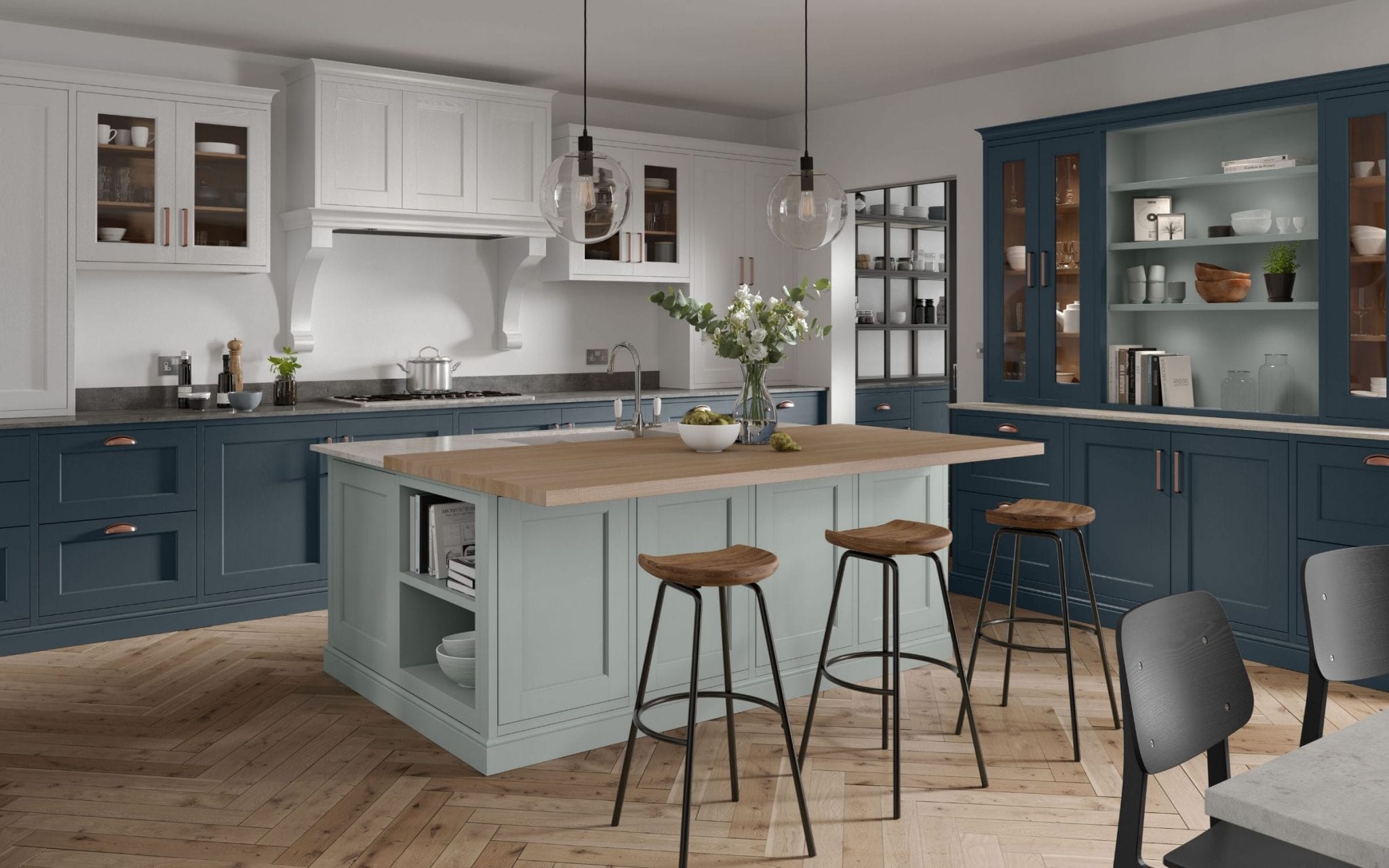 "HKS have designed and fitted a very high quality bathroom indeed for my parents. All from HKS were exceptionally polite, kind and helpful and their communication throughout the project was excellent.The project ran to the original timescale. I highly recommend them."
"Our dream kitchen has finally become a reality. Since you refurbished our master bedroom and en-suite bathroom 5 years ago our confidence in you all at HKS has never wavered, and indeed the kitchen has exceeded our expectations. We are also impressed with new innovations like boiling water tap, hob extractor etc., and colour schemes making the kitchen look so streamlined. We will certainly pass the HKS name around."
"From the first time we walked into HKS showroom to the final installation/finishing, this family run and owned company were professional and provided great customer service throughout."
In-Frame Kitchens Designed Around You
Though taking inspiration from history, our exceptional in-frame kitchens can be personalised to bring a modern or traditional atmosphere to your Sussex home. Pairing our in-frame kitchen with a rich colour scheme, fresh white worktops and contemporary metallic accents will put a stylish contemporary twist on your design. Alternatively, warm neutrals and characterful details like plates racks and mantels are perfect if you're looking for an elegant country kitchen style.
Here at HKS Interiors, we've been designing and installing outstanding kitchens for over 40 years. Our dedicated team are experts in understanding exactly what makes you tick. They always go to great lengths to listen to your requirements and ensure each of our Sussex clients find the perfect interior to suit their lifestyle and tastes. If you're interested in creating a beautiful bespoke in-frame kitchen, our knowledgeable team would love to help bring your vision to life.
Design Your In-Frame Kitchen...
Take the next step towards finding your perfect Sussex in-frame kitchen. See what HKS can do for you by booking a free appointment with one of our talented design experts.