Sleek, sophisticated and practical, handleless kitchens continue to grow in popularity. And here at HKS, we've designed and installed hundreds of luxurious handleless kitchens for clients throughout Sussex. While handleless kitchens were previously synonymous with cutting-edge, minimalist aesthetics, influences from Japanese, Scandinavian, traditional and sustainable kitchen trends have brought wonderful versatility to this kitchen style. If you've been inspired by the latest trends and would like to bring a beautiful, uncluttered look to the heart of your home, we've gathered a selection of elegant handleless kitchens for you to explore, alongside our expert design tips.
The Chic Scandinavian Inspired Kitchen
Taking inspiration from the trendy minimal looks and natural materials associated with Scandinavian design, this chic handleless interior combines a subtle muted colour scheme with luxe finishes, such as marble and a glamorous dark wood veneer. The beautiful natural wood grain, glowing lighting and soft colour palette establish an inviting atmosphere, while black accessories and a deeply veined marble add a stunning touch of opulence. Warm neutral colour schemes and wood accents are growing in popularity due to the increase in awareness surrounding sustainability. You can bring a more tranquil pared-back look to your space by opting for solid wood bar stools and a more understated splashback.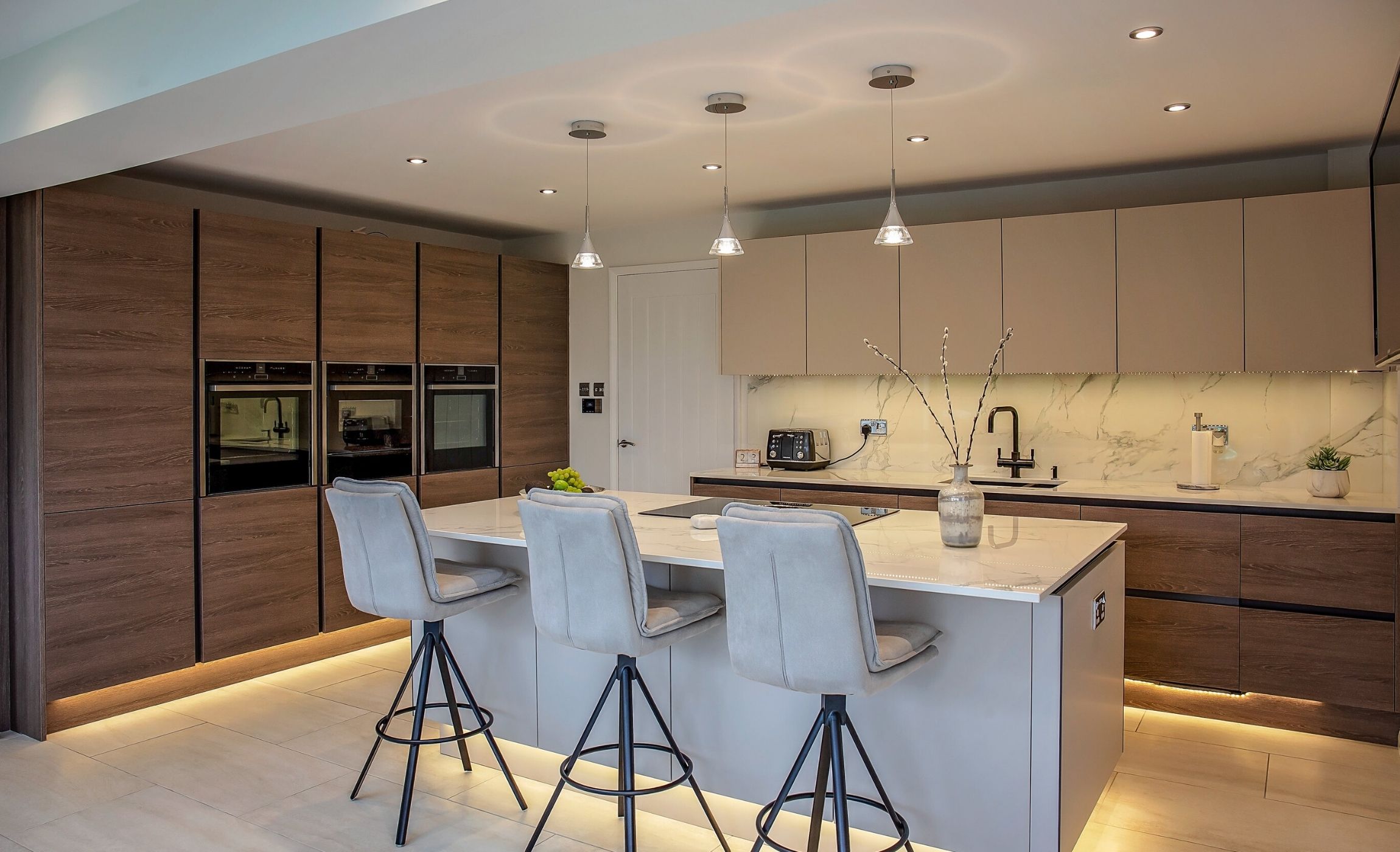 The Minimal White Look
Perhaps the look that tends to spring to mind when we mention a handleless kitchen is the pristine, all-white design. While this bright, minimal look isn't for everyone, there's no better way to bring a clean and spacious feel to your room. All-white kitchens can, however, sometimes appear a little stark and clinical. A bold pop of colour or a touch of natural wood will instantly lift your space, adding charm and personality to your design.
Another feature to consider when choosing a handleless kitchen is a kitchen island. Handleless kitchens often feature long banks of tall units, and while these offer impressive storage and elegant, streamlined looks, they can leave you struggling for worktop space. A stunning kitchen island is a perfect solution.

The Eclectic Family Space
While you might associate the handleless kitchen with modern monochrome schemes and sleek surface finishes, however, as the style has become more popular, our perceptions have changed. Handleless kitchens aren't just limited to minimalist styling and black and white tones. From deep navy blues to rich forest greens, a dramatic hue adds real depth and character to a contemporary space, allowing you to personalise your interior in a truly unique way. The clean lines and uncluttered detailing of a handleless kitchen contrast brilliantly against a rustic exposed brick wall. Combining a sleek cabinet finish in a warm colour with a characterful feature wall and quirky accessories creates a showstopping modern yet eclectic design. There's much more to the handleless kitchen than you might think.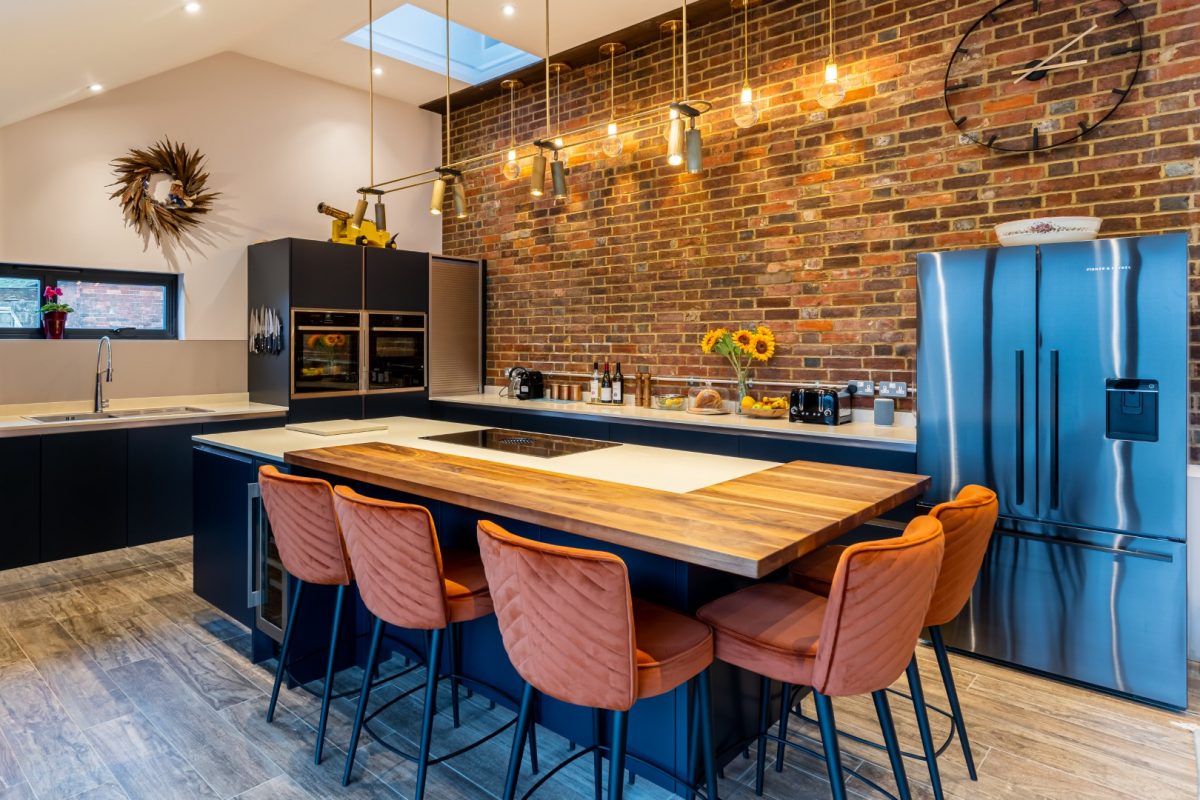 The Handleless Shaker Kitchen
The new handleless shaker kitchen puts a modern twist on a classic design, resulting in a wonderfully charming yet sleek and sophisticated interior. Combining the simple detailing of a traditional kitchen with the clean lines of a handleless design, the handleless shaker makes the perfect middle ground for those who want to bring a contemporary edge to an iconic look. Handleless shaker kitchens pair beautifully with soft and timeless colours such as navy blue, grey and neutral earthy tones. A two-tone scheme often makes a popular choice.

Adding Character To Your Handleless Kitchen
As you can see, handleless kitchens can complement a variety of tastes and styles; they don't always have to look completely pristine and characterless. One fantastic way to inject some personality into your design is to include display shelving. Whether built into your cabinetry, an island or simply mounted on a wall, shelving allows you to display a selection of your favourite ornaments, cookbooks and houseplants, adding a lovely touch of character to your space.

Create An Elegant Lighting Scheme
Whether you choose a modern or traditional kitchen style, lighting can have a dramatic impact on your design. From ensuring your space feels bright and open to achieving a sophisticated ambience, it's vital to consider your lighting scheme early on in the planning stages of your kitchen. Sleek strip lighting set into handrails, plinths, or under overhead cabinets can accentuate the clean lines of a handleless kitchen while creating a stylish glow. For more tips on establishing a fantastic lighting scheme, please click here to read our dedicated blog.

Despite their modern looks, an elegant handleless kitchen can make a timeless focal point to your home. With a variety of wonderful colours, finishes and design features to choose from, there is a handleless kitchen to suit every taste. For more tips on creating your perfect handleless kitchen, please get in touch with our friendly expert designers by calling 01435 866166 or emailing sales@hks-uk.com.