While your cabinet and worktops are usually the key components of your kitchen design, the lighting you choose for your new space will have a significant impact on the mood & atmosphere of your space as well as how practical it is to use. Whether you are looking for a statement lighting feature or ceiling lights to brighten your space, read on for the key ways to create your desired look in your new kitchen design.
Pendant Lights
Pendant lights are one of the most popular lighting choices for kitchens of any size, and there's a good reason for it. Particularly useful for positioning over specific work areas such as a kitchen island, pendant lights create a stunning design feature as well as enabling you to direct light to the areas you may need it.
If you have appliances on central parts of your kitchen like an island, pendant lights can successfully provide a strong light source to high use areas that will make it easier to prepare and cook food.
Ceiling Spotlights
For a bright and evenly distributed light source across your kitchen, ceiling spotlights are a practical choice that also lend themselves to a premium, luxe look. Spotlights will blend into your ceiling, working to enhance both large and smaller kitchen spaces for a glow that will transform dreary mornings and evening dinners all the same.
Ceiling spotlights can also be extremely versatile, positioned in a balanced design across your room or more specifically in areas that don't have as much natural lighting. Dimmer lights are also available in this design, which makes them functional for dusk mood lighting as well as beaming clean looks.
Under Cabinet Lighting
Perfect for creating a luxury look that suits space for entertaining, under cabinet lighting is a subtle way of injecting extra light sources across your kitchen. Position underneath or on top of cabinets for an ambient appearance that is ideal for cosy evenings in and after dinner drinks alike.
Chandeliers & Statement Fixtures
Similar to the function of pendant lighting, chandeliers will create a statement feature in your home, complementing both contemporary and traditional designs. Simple and elegant, chandeliers come in a range of sizes and styles to suit your space and give it a lavish twist. When turned on, the glass will reflect across your room for a unique dazzling look, and equally in the daytime, a chandelier will give your room an open and polished appearance.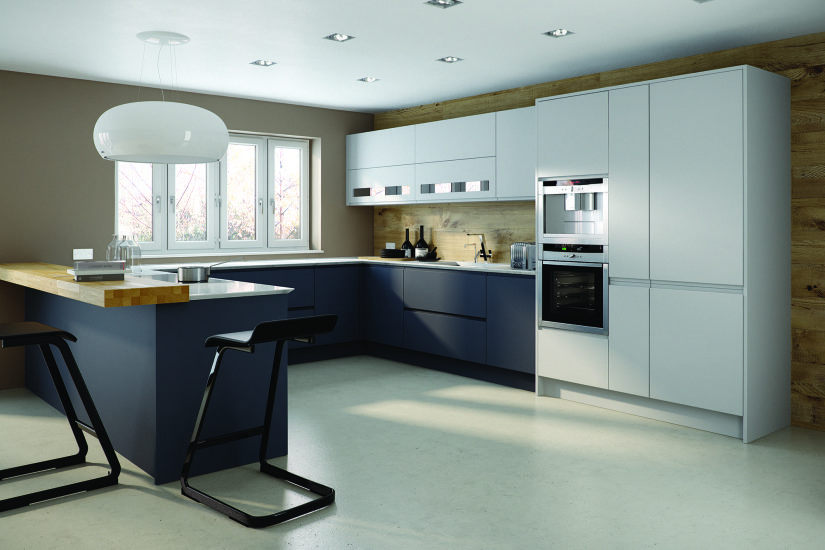 Choosing the right lighting for your kitchen shouldn't be an afterthought; it dramatically affects the entire mood of your space as well as the functionality of your new kitchen. At HKS we can advise you on a range of lighting choices that will create a stunning design that doesn't compromise on practicality.
To start planning your dream kitchen, contact your local showroom by clicking here.