Investing in a stunning fitted bedroom that's tailored to suit the dimensions of your room as well as your individual style is a wonderful way to get the most from your interior. Here at HKS, our beautiful bespoke fitted bedrooms are designed to neatly accommodate all your belongings while perfectly complementing and enhancing the look and atmosphere of your space. Our carefully thought-out, custom-made interiors offer so much more than just a plain row of fitted wardrobe doors. You can see exactly what we mean below as you explore some of our brilliant bedroom design tips. We hope our gorgeous bedroom ideas give you wonderful inspiration for your exciting new project.
Timeless & Elegant Shaker Style
Fitted bedrooms aren't all shiny sliding doors and characterless modern designs; a classic fitted bedroom in a traditional shaker style can bring just as much charm and elegance to your room as freestanding furniture. Furthermore, with the added practical and stylistic benefits of a unique tailor-made design, a breath-taking bespoke fitted bedroom is sure to elevate your space perfectly. Available in a range of colours, a calming warm greige paired with clean white walls makes an excellent selection if you're looking to create a stylish yet timeless interior. Alternatively, discover a design that truly captures your imagination and reflects your personality with a beautiful bespoke colour scheme of your choice.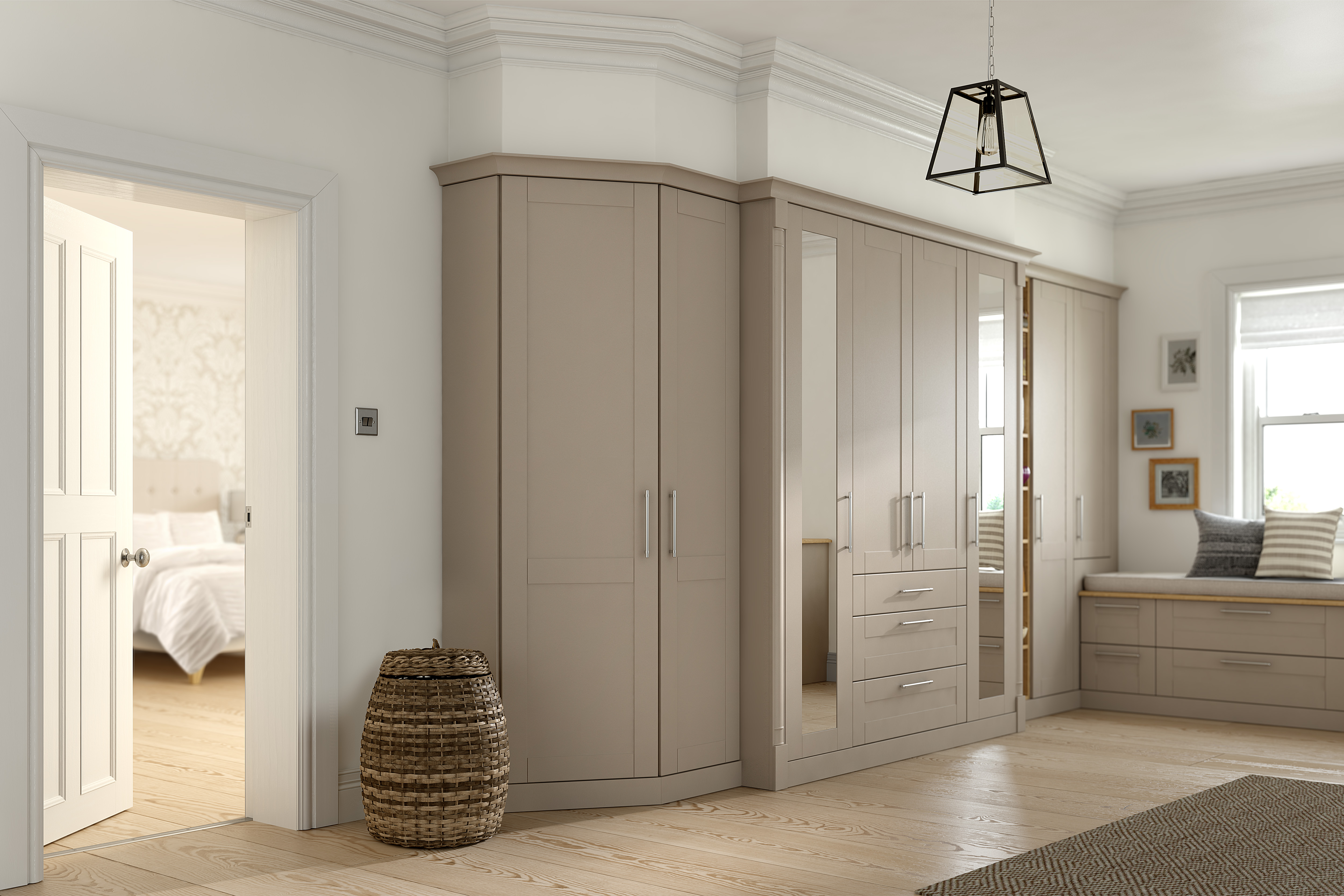 A Luxurious Bespoke Rough Cut Oak Interior
If you prefer the clean lines and uncluttered profile of a modern design but are keen to bring warmth and character to your space, a luxurious natural wood finish combined with a paired back furniture style could be the ideal solution. Created to suit our Sussex client's rural countryside home, this stunning bespoke bedroom strikes a wonderful balance of clean contemporary style and classic charm. The fitted wardrobe has been precisely made-to-order to maximise storage space; the curved corner solution makes a practical yet characterful detail.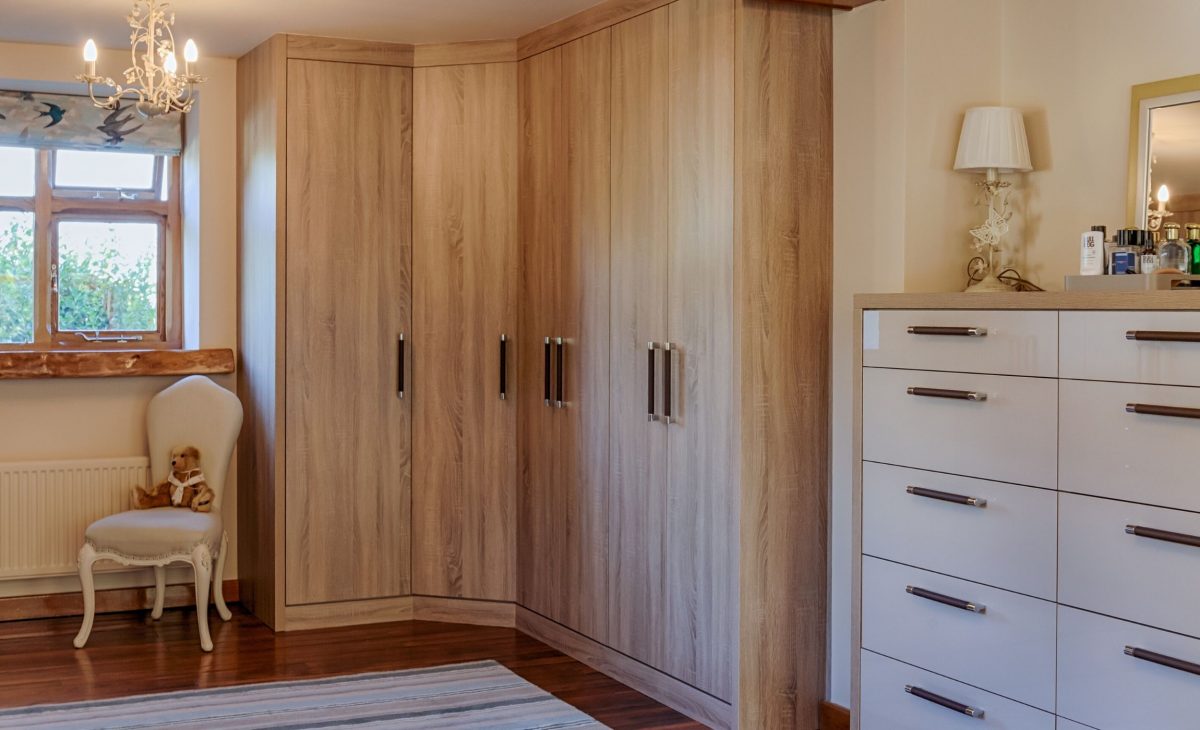 Sophisticated Integrated Shelving
Fitted storage is certainly ideal for maintaining the immaculately organised and clutter-free bedroom many of us can only dream of. However, keeping a few ornaments and photos out on display can be a lovely way to add to your space and create a relaxing, homely atmosphere. Instead of opting for fussy individually mounted shelves, integrating elegant shelving alcoves into your fitted bedroom design creates a stylish, streamlined look, perfect for those who prefer a more neat and minimal aesthetic.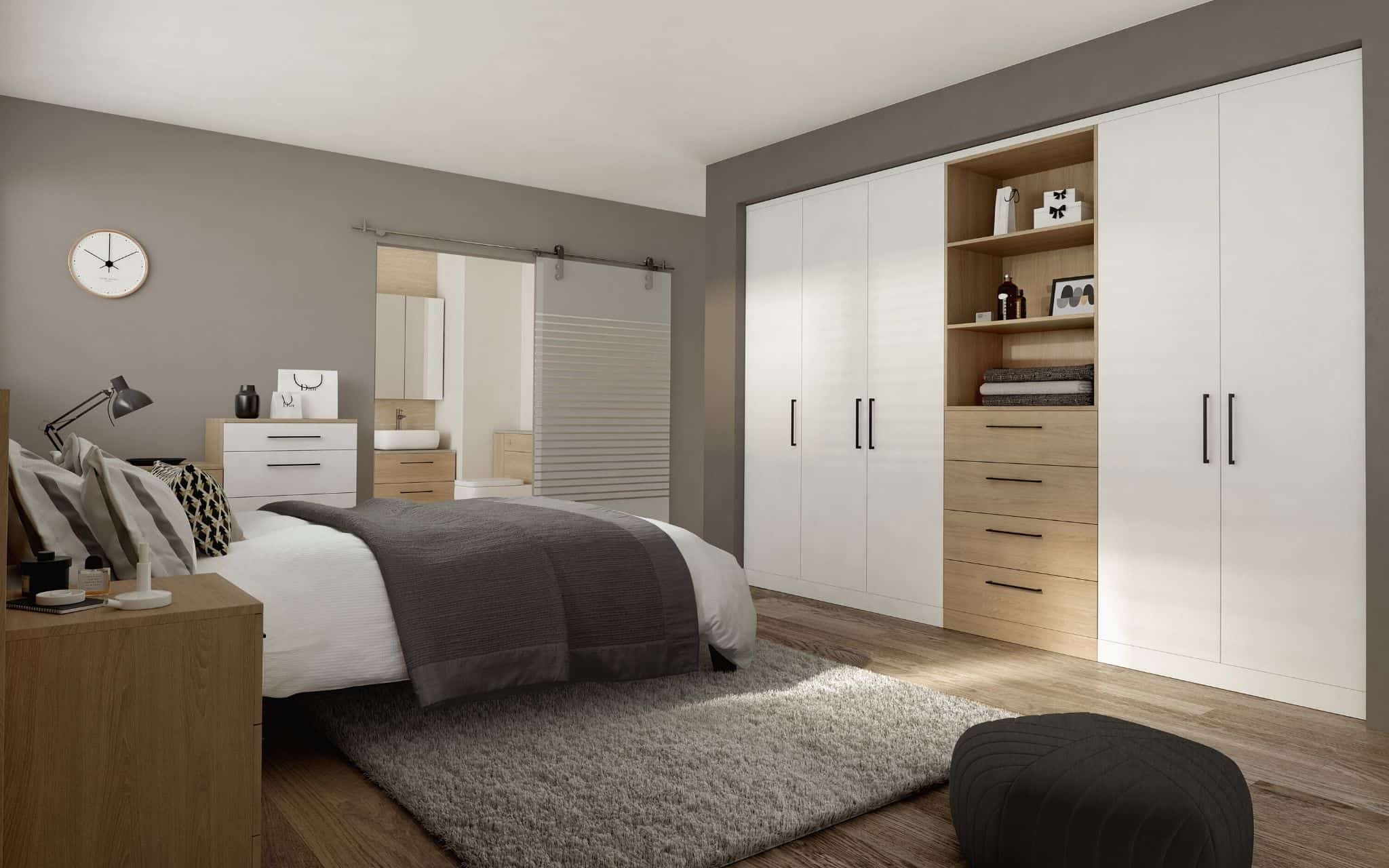 Beautiful Bedroom Lighting
As with any interior, it's the attention to detail and finishing touches that really make a space feel special. Including beautiful, warm glowing lighting as part of your fitted bedroom furniture is a wonderful way to elevate your design, giving your room a luxurious, cosy feel. Cleverly built-in below the wall storage, the stylish lighting below doesn't just establish a sumptuous soft level of illumination; it also casts a gorgeous glow over any objects displayed behind the headboard. This elegant integrated lighting is perfect for relaxing with a book or a cup of tea when the main ceiling lights are turned off.

A Chic & Metropolitan Bedroom Storage Solution
When designing a sophisticated and practical fitted bedroom, traditional wardrobes and drawers aren't the only options. Whether you're creating a fabulous walk-in dressing room or looking for an ultra-trendy interior design, an open storage configuration could be the ideal solution. Comprising of a custom arrangement of clothes rails, shelves, drawers and pull-out systems, a bespoke storage unit offers the perfect place to keep all your belongings neatly organised and quickly accessible. Alternatively, sliding doors make a sleek and stylish space-saving addition to a fantastic bedroom storage design.

Your Personal Dressing Area Or Workspace
Opting for a fitted bedroom design offers a great opportunity to introduce a host of bespoke features that are perfectly suited to your lifestyle. If you need somewhere to get ready in the evening or a quiet place to catch up on work or study, a tailor-made dressing area or desk space could be just what you need. Tailored to suit your individual requirements, there's no limit to the range of innovative design elements you can include.

At HKS, we've been crafting beautiful bespoke bedrooms for over 35 years. Our talented and helpful designers love nothing more than discovering the latest trends and concepts to bring to their work and are always keen to share their expertise with new audiences. If you'd like to know more about our wonderful, fitted bedroom design ideas, or if you have any questions about your upcoming project, please don't hesitate to get in touch. You can call us on 01435 866166 or email sales@hks-uk.com.