At HKS, we've been designing and installing gorgeous East Sussex kitchens for coming up to 40 years. And while we've seen plenty of trends come and go, the elegant traditional kitchen style has always remained incredibly popular. Whether you live in a quaint countryside cottage or a modern new build, a traditional kitchen design makes a fantastic choice. Featuring beautiful detailing and charming looks, traditional kitchens are ideal for bringing timeless character and luxury to your home. To share our appreciation of the many gorgeous classic kitchen styles available and help you find inspiration for your upcoming project, we've put together this handy guide to traditional kitchens, including some great design tips.
What Is A Traditional Style Kitchen?
Traditional style kitchens encompass a diverse range of looks and designs, including everything from rustic country interiors with oak accents, to more contemporary shaker styles. However, what typifies all traditional kitchens is an element of detailing and character that you simply won't find elsewhere. These decorative touches can create a wonderful sense of luxury while bringing a homely and inviting quality to your space.
The traditional kitchen styles popular today have evolved from two sources. Prior to the 1900s, formal kitchens were a luxury; they were confined to the servant's quarters of stately homes and were intended for purely practical use. As more homes gained access to gas and electricity, the opulent Edwardian domestic kitchen became a feature of many middle-class properties, leading to what's come to be regarded as a sophisticated traditional kitchen style.
More simple and unfussy traditional kitchens are influenced by shaker kitchen design; a style conceived by a religious group known as The United Society of Believers in Christ's Second Appearing. Their religious devotion encouraged them to become largely self-sufficient and modest in their way of life, and this was reflected in their furniture design. The elegant and unfussy shaker kitchen is hugely popular today.
While many elements come together to establish a traditional style kitchen, there are three main door types to choose from…
Shaker
An elegant, framed design serves to add strength and durability to the cabinet door, in turn creating a beautiful yet simple design feature. As mentioned above, the shaker-style kitchen was originally intended to minimise waste while maximising quality, creating the characteristically understated detailing that has become so desirable.
Raised & Fielded
Raised and fielded kitchens are similar in looks to shaker style designs. However, they feature slightly more detailing, including a raised central panel and sometimes added decorative beading. They tend to be associated with more traditional interiors, bringing a luxurious quality to the home.
In-Frame
The in-frame kitchen refers to the method of construction rather than the visual appearance of the door panel itself. Whereas in many kitchens the door is attached to the front of the carcass using concealed hinges, in an in-frame kitchen, the door sits perfectly within a traditionally crafted framed structure. In-frame kitchens are synonymous with quality and exquisite, handcrafted luxury.
Traditional Kitchen Design Inspiration
Traditional kitchens are wonderfully versatile and can be beautifully tailored to capture your individual style and taste. To help you get a feel for the exciting possibilities awaiting your space, we've gathered a few of our favourite traditional kitchen design tips for you to consider.
An Elegant & Sophisticated Colour Scheme
Subtle neutral colours like greys and beiges are ideal for creating a timeless and sophisticated interior. Offering a touch of warmth and character; an understated colour scheme will bring exquisite depth to your design without overwhelming your space. A tasteful hue paired with classic accessories is sure to leave you with a stylish and luxurious traditional kitchen that looks perfectly stunning for years to come.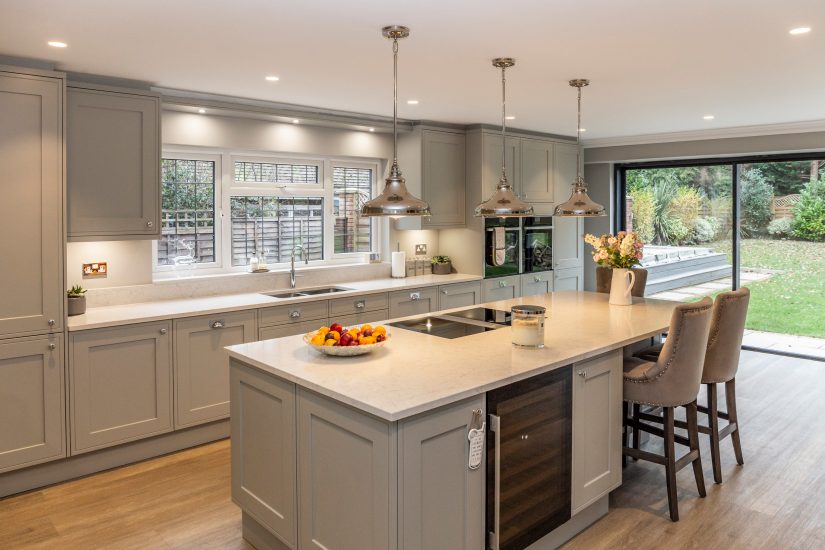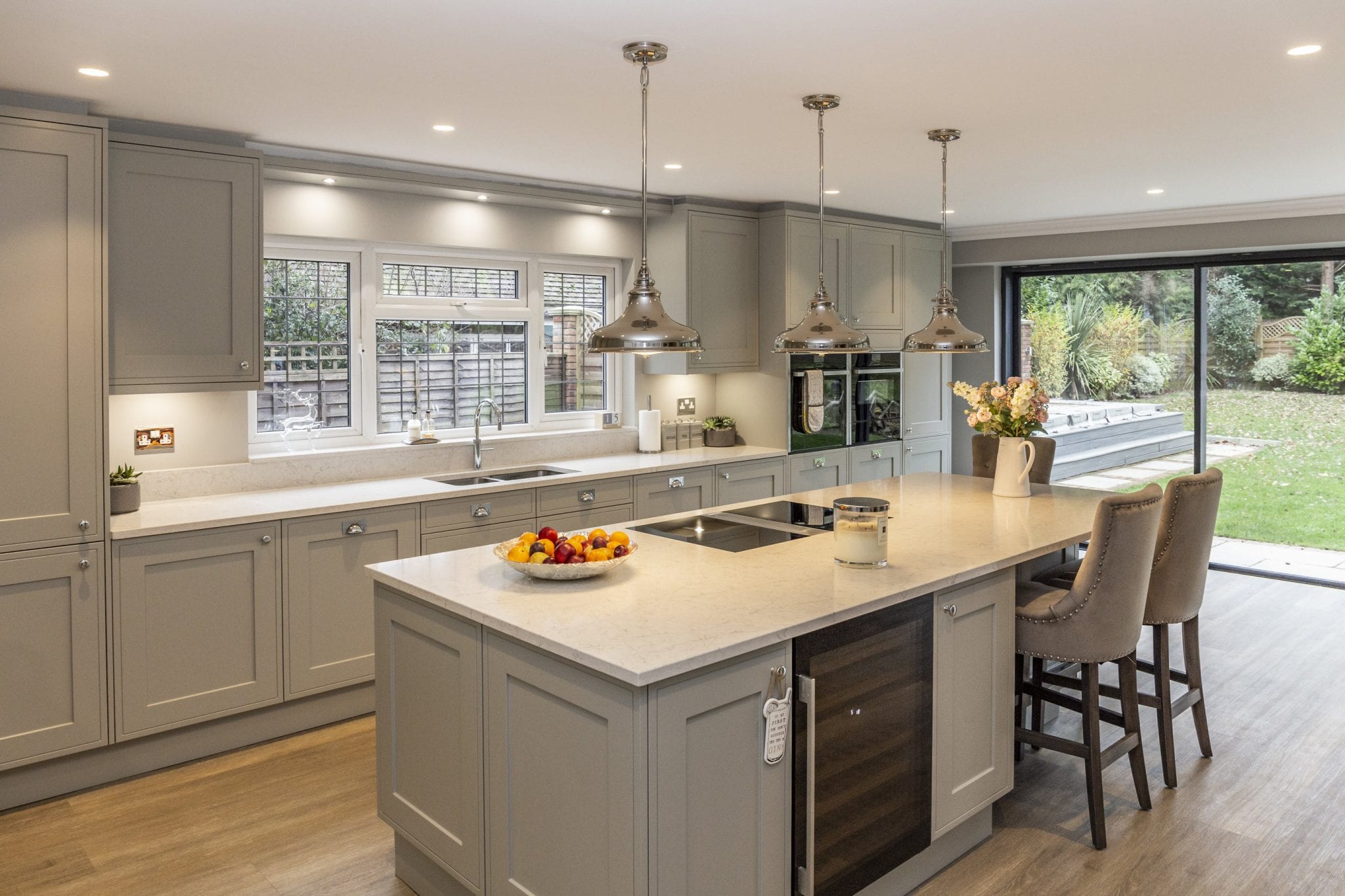 Introduce A Dramatic Feature Colour
Dark colours like navy blues, forest greens and rich plum purples have become highly popular with those looking to create a dramatic and stylish classically inspired kitchen. If you have doubts about introducing such a bold colour to your kitchen design but would like to bring a contemporary edge to your interior, you might consider adding an eye-catching accent to a kitchen island or a single row of cabinets.
Classic Country Kitchen Detailing
If you can't get enough of the character and charm a traditional kitchen has to offer, then why not go all out on including a host of gorgeous classic details and design features in your space. A range cooker makes a beautiful and cosy focal point to a room, especially when accompanied by an intricately designed mantle. Glass-fronted cabinets and freestanding dressers also make a wonderful addition to a homely country kitchen interior.

Stylish Kitchen Lighting
Kitchen lighting is, of course, an important practical element of your design. However, stylish pendant lights can also introduce an additional dimension, furthering the look and atmosphere of your space as a whole. From cool industrial-style exposed bulbs to vintage dome shades, there is a virtually exhaustive range of designs to choose from.

Warm & Charming Wood Accents
Introducing natural wood surfaces to your kitchen will immediately bring a warm and homely touch to your interior. Natural untreated wood was a popular choice of finish in farmhouse and country kitchens, and this association helps establish a luxurious, high-quality feel to a traditional design.

Whether you prefer a bright, uncluttered and modern look or a lavish and sophisticated interior, a traditional kitchen makes a wonderful starting point upon which to base your design. If you'd like more advice on choosing a traditional style kitchen to suit you, please don't hesitate to get in touch with our knowledgeable team. You can call us on 01435 866166 or email sales@hks-uk.com.