At HKS, we're dedicated to creating kitchens that put the joy back into cooking. Preparing midweek meals in a poorly designed space can be a drag, while cooking for a crowd seems like an unthinkable task, but with our years of experience and our expert knowledge, we endeavour to transform your home with a bespoke design that's both beautiful and practical.
The latest state-of-the-art appliances are one of the many finishing touches that complete your new kitchen and choosing the right ones for your budget and lifestyle is crucial to the success of your space. At HKS, we're five-star Neff MasterPartners, which means we're one of the country's leading experts in NEFF products. Our unrivalled knowledge and expertise make us perfectly placed to help find the best appliances for you. To give you a flavour of what we have to offer, we've put together a list of our favourite NEFF appliances which we expect will be hugely popular with our Sussex clients this year.
VarioSteam & Full Steam Ovens
Steam cooking has been in the spotlight in recent years, and for those of us who are old enough or lucky enough to have enjoyed meals cooked in a traditional cast-iron cooker, we can completely understand why. Cooking with steam beautifully enhances the flavour and texture of your food. From creating crisp and succulent roasts to gorgeously moist and light cakes, steam cooking helps you to achieve effortless perfection every time. Not only does cooking with steam deliver great flavour and texture, but it also locks in nutrients making food healthier. NEFF's VarioSteam and Full Steam ovens feature an easy to fill water container that's simple to operate and the two designs allow you to customise the capabilities of your oven to suit your needs. Once you've experienced food cooked using steam, you'll never want to go back to using a normal oven again!
Slide & Hide
NEFF's patented Slide & Hide oven simply never goes out of fashion. Both our clients and designers love its stylish and practical design, and with a huge selection of oven features and functions to choose from, it makes a perfect addition to any kitchen. The innovative design allows the door to slide neatly under the oven cavity so you can get closer to your food as well as being able to manoeuvre hot trays across a busy kitchen safely and efficiently. One of the functions we recommend adding to your NEFF Slide & Hide oven is the latest pyrolytic self-cleaning technology. The touch of a button activates a high temperature that turns grease and food residue to dust so you can simply wipe it away. When it comes to rekindling your love of cooking, surely it doesn't get better than an oven that cleans itself?
Venting Hobs
NEFF's Venting Hobs enable true design creativity. Doing away with the need for a bulky overhead extractor allows you to place your hob anywhere in your kitchen without interrupting its beautiful design. Position your venting hob on a kitchen island so you can socialise with guests as you impress them with your cooking, or simply prevent wasted cupboard space in a compact layout. The powerful yet quiet extraction is strong enough to draw in steam, smoke and food odours so you can enjoy a sociable and inviting kitchen. A cast-iron covering grate doubles up as a pan rest even when the extraction is on so you can make the most of the whole surface. NEFF's Venting Hob combines with both their TwistPad Fire and FlexInduction models. Never have has cooking looked so glamorous and sleek.
TwistPad Fire Hobs
While many keen cooks idolise the sensitivity and responsiveness of a traditional gas hob, induction technology is now giving them a run for their money. NEFF's latest cutting-edge induction hobs aren't just safe and efficient, they are incredibly intuitive and quick to respond to the slightest changes. NEFF's TwistPad Fire control system allows you to simply point and twist towards your desired cooking zone so you can adjust the heat in an instant. Pairing this with NEFF's superb FlexInduction design introduces the most seamless, stress-free cooking yet. Move your pans anywhere on the hob and the temperature settings will follow. Divide your hob into three heat zones so you can move pots from boiling to simmering to warming without even having to think about it. NEFF's outstanding induction hobs enable amazing cooking creativity.
Home Connect
Many of NEFF's latest appliances are enabled with Home Connect technology. This smart technology brings the future to your kitchen, allowing you to control your home appliances from your oven to your coffee machine, from an app on your phone. Check your fridge while you do the weekly shop or preheat the oven on your way home from work, the options to make your life more convenient are endless. Home Connect is the technology of the future, consider including it in your kitchen this year to get ahead of the game and experience a new way of living.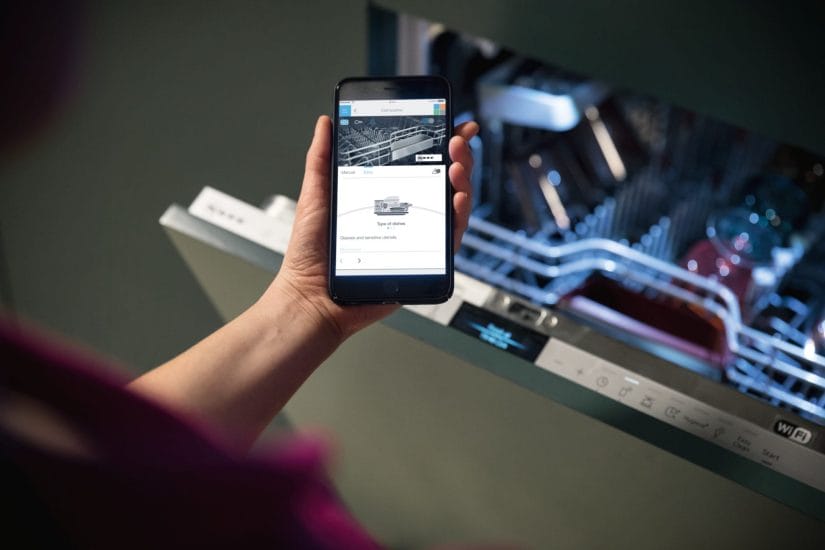 HKS are Sussex's leading experts on NEFF products and technology, if you would like to find out more about our extraordinary home appliances you can call us on 01435 866166 or email sales@hks-uk.com. We have a superb variety of the latest NEFF appliances available to demonstrate at our Sussex showrooms, and though at the moment our showrooms are unfortunately closed, we would be delighted to welcome you to experience our NEFF appliances first-hand as soon as we can.