At the beginning of every year, interior designers across the country try to predict what the latest trends will be in the coming months, and while looking to the most innovative new design trends can be a fantastic place to find inspiration for your project, at HKS we understand that you expect your kitchen to stand the test of time as well as looking stylish. To help you create a kitchen that won't just look great in 2021 but that will look stunning for years to come, we've put together a list of our favourite kitchen colour schemes that have proven incredibly popular with our clients and designers alike.
Elegant  & Understated Grey
Soft, graceful and sophisticated, a subtle grey hue brings an even more luxurious feel to our traditional shaker styled kitchens. With gentle warming undertones, the perfect shade of grey sets an inviting and elegant tone to a room that's bright and fresh without looking too cool or washed out. An understated grey provides exceptional versatility, pairing beautifully with natural oak finishes and a range of accent colours from the most vibrant hues to complementary neutral tones. The elegant grey Edwardian inspired kitchen below looks truly stunning with its stylish silver detailing and glamorous velvet bar stools.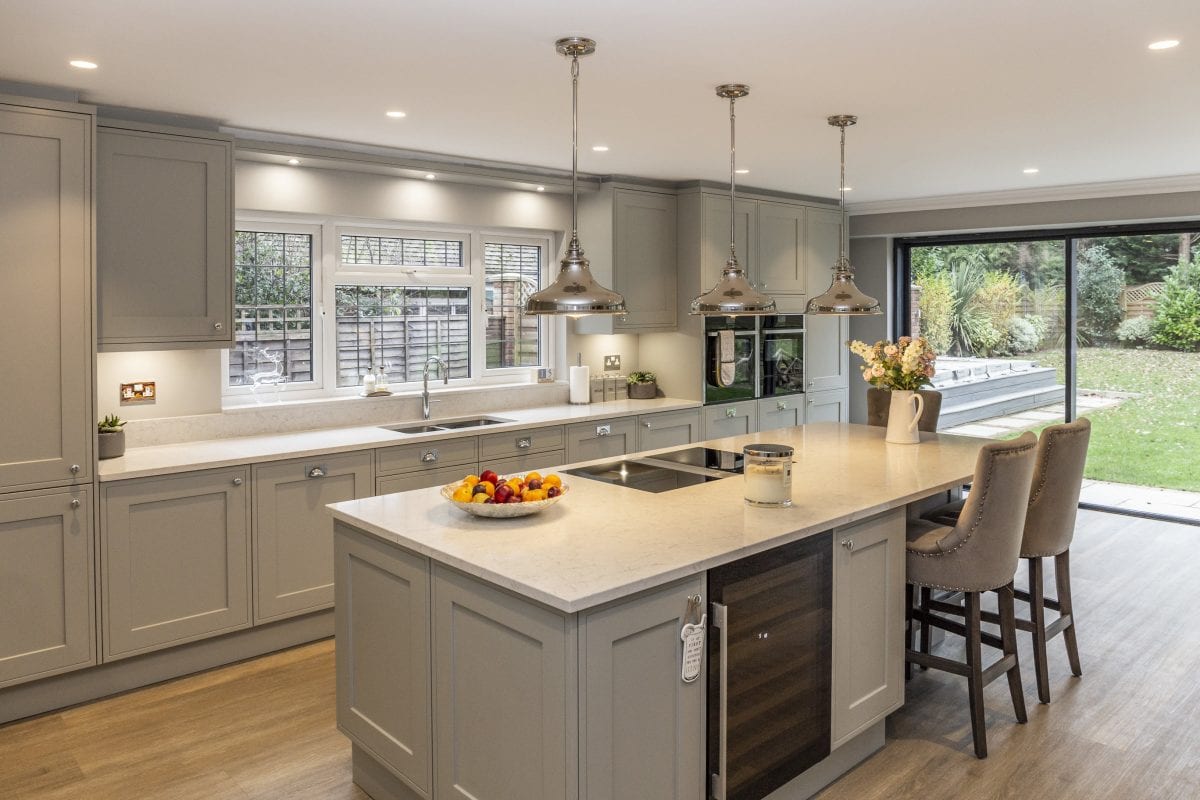 Stylish Monochrome
Grey is a popular choice both for our clients who want to create a classically luxurious interior and for those who prefer something more sleek and sophisticated. Sticking to a monochrome colour palette is a wonderful way to create balance and depth whilst maintaining a refined and minimal aesthetic. In our client's kitchen below, an on-trend dark anthracite grey makes a stylish contemporary statement while bright white and more understated light grey features ensure the space feels open and inviting.  The minimalist grey and white palette perfectly complement the clean unfussy handleless kitchen style. A monochrome colour scheme is ideal for making a striking impact in a modern space.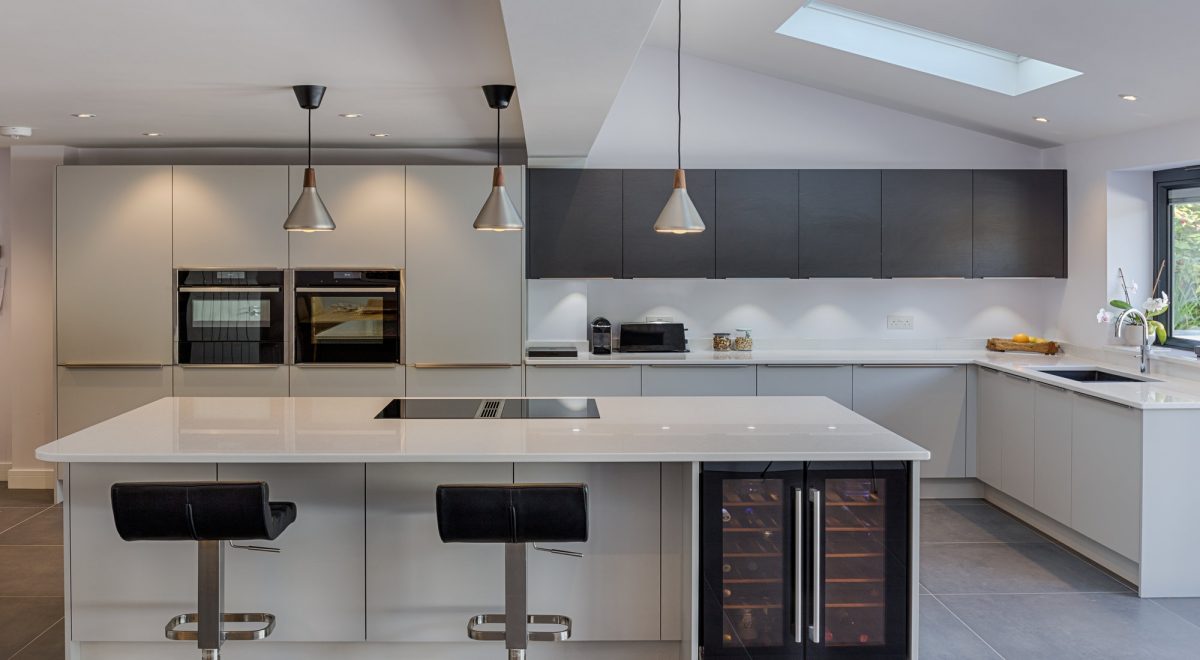 Dramatic Deep Navy Blue
In recent years bold colours have been a recurring theme within kitchen design and with their luxurious and dramatic yet welcoming characteristics, it's easy to see why. While deep forest greens and regal plum hues are expected to grace the most innovative interiors this year, the classic dark navy blue always comes out on top with both our designers and clients. This versatile colour achieves an extraordinary balance between vivid warmth and moody sophistication to create a truly charming atmosphere. The dramatic shade looks exquisite in both modern and classically styled kitchens and beautifully flatters a host of features from lavish marble surfaces to eclectic exposed brick walls.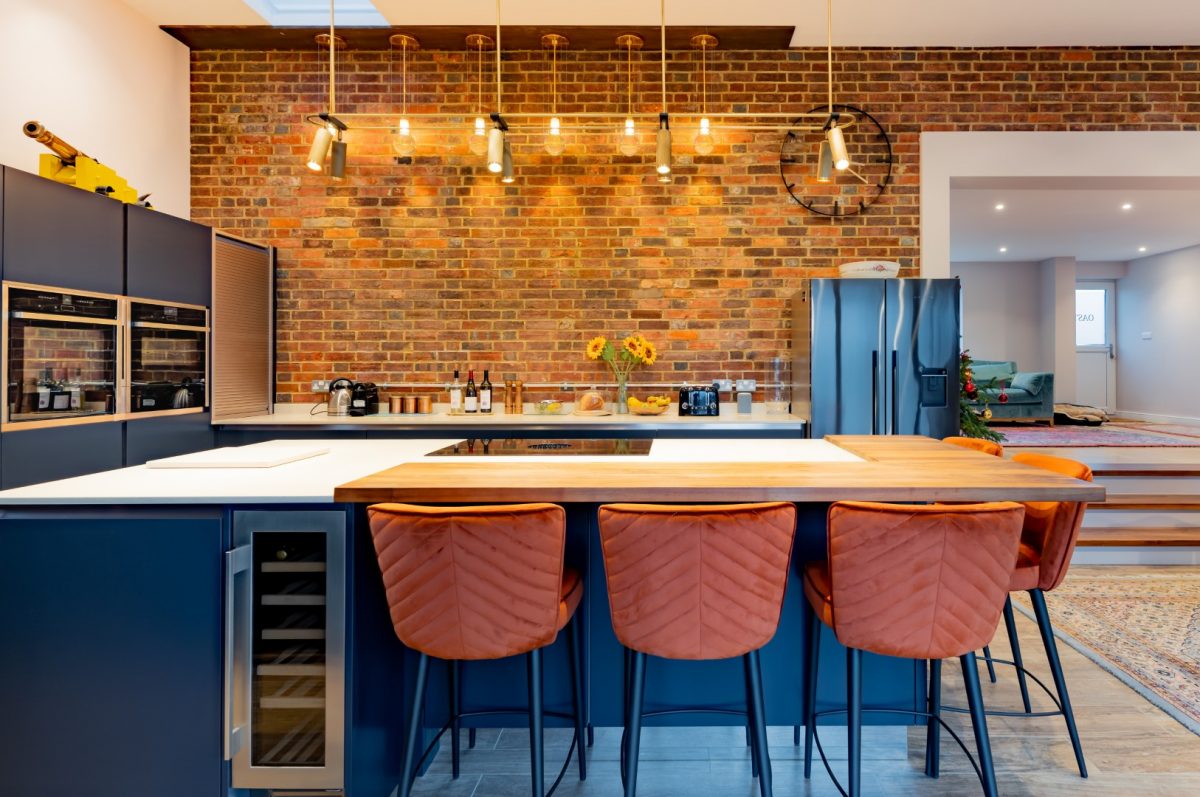 Perfectly Balanced Two-Tone
Going all out with a dramatic navy blue colour scheme isn't for everyone. If you love the richness and sophistication of a deep hue but would prefer to keep your overall kitchen interior more understated, then a two-tone design is the perfect solution. Introducing a darker colour to your kitchen island helps to emphasise its dramatic architectural qualities while keeping the colour below the eye-line ensures it doesn't dominate the space. You can achieve a similar effect by positioning a darker colour on your floor units while opting for a bright neutral shade on your overhead cupboards. This is a fantastic technique to create a really personal kitchen that's just perfect for you.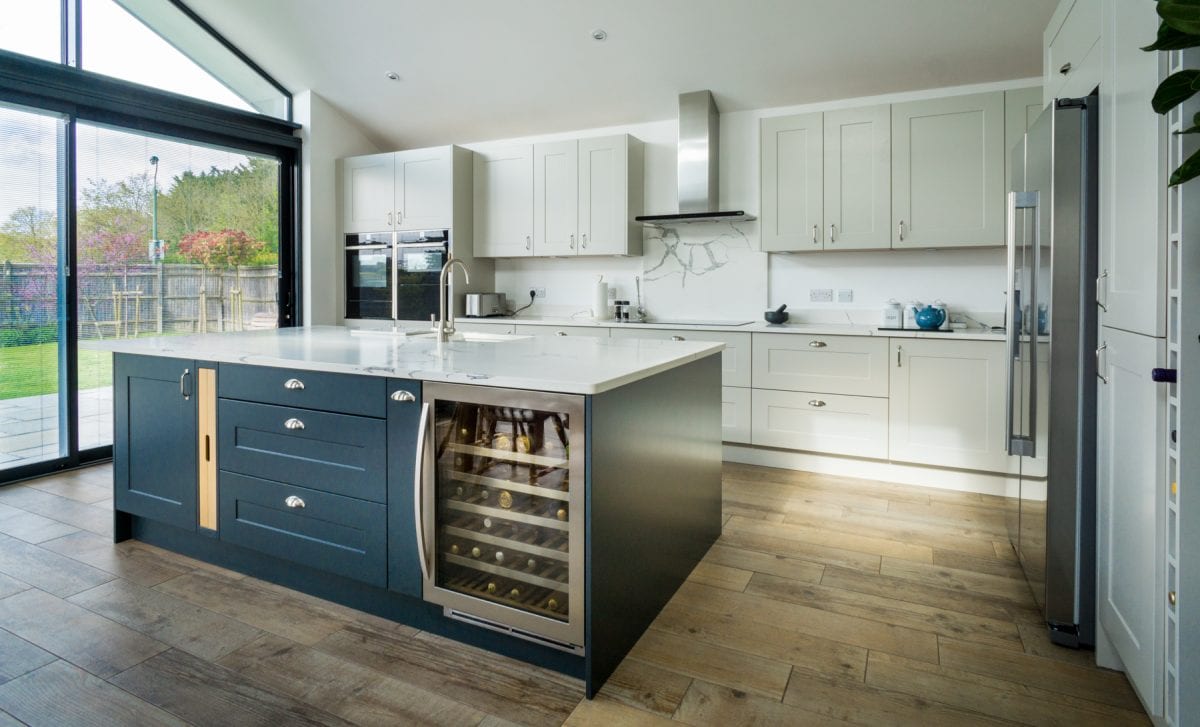 Subtle Neutrals Meet Luxurious Wood
Though not technically a colour, natural woodgrain surface finishes have recently been making a comeback, particularly in the realms of the more modern kitchen. The warm, luxurious and characterful qualities of natural wood will never fail to make a beautiful addition to the kitchen whether you opt for more classic timber worktops or an on-trend wood furniture finish. Smooth and sleek woodgrain cabinetry looks simply stunning in a contemporary interior paired with subtle neutral tones.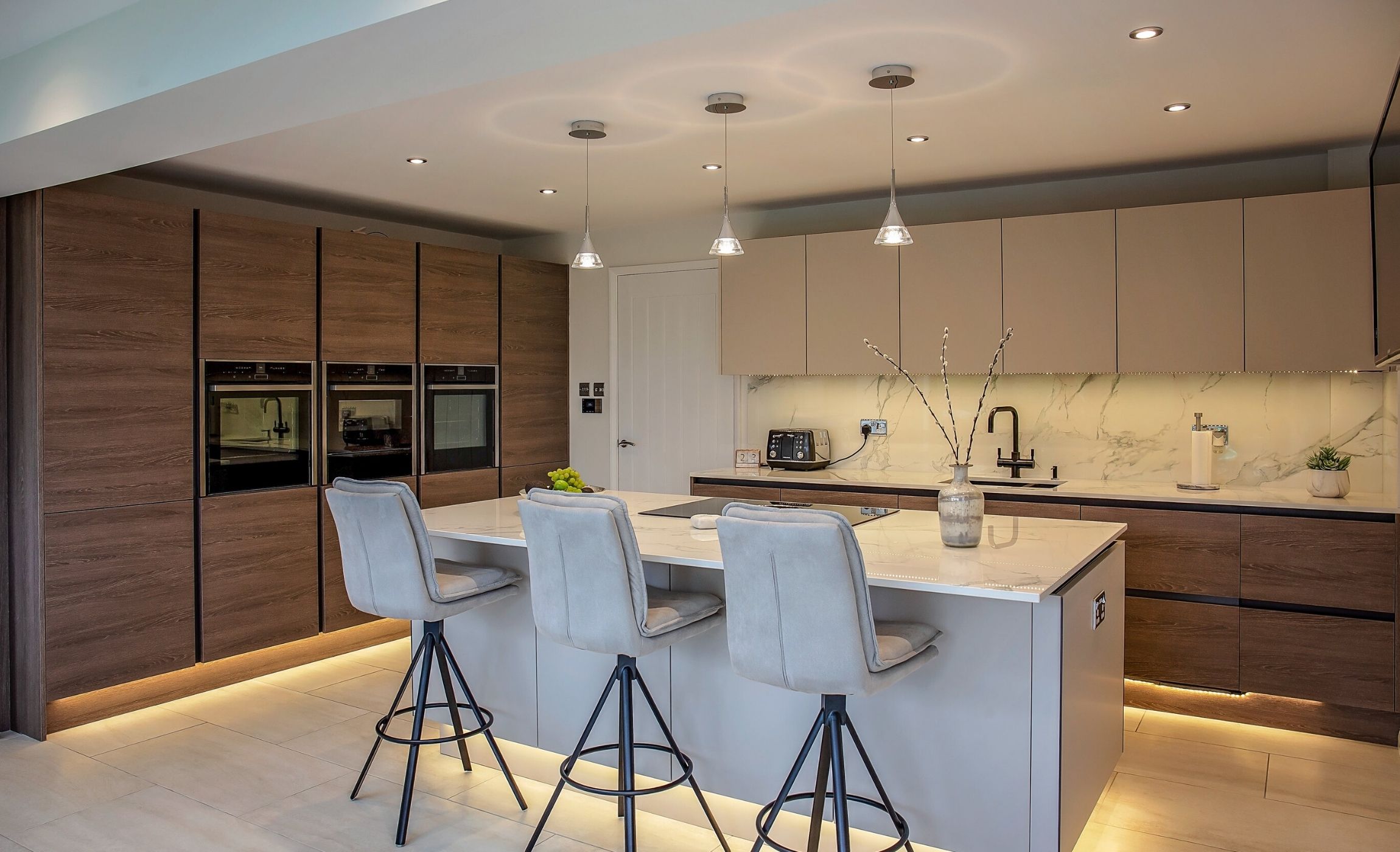 A Bold Colour Pop
While of course you want your kitchen to stand the test of time, you don't want to end up with a space that's bland and lacking in character. Introducing a bright accent colour is a wonderful way to inject some personality into your interior. Kitchen splashbacks make a perfect place to add a pop of colour, the marbled effect of this breath-taking organic purple glass splashback creates a wonderful sense of movement. Consider keeping the rest of your colour scheme clean and simple to ensure your accent colour really stands out.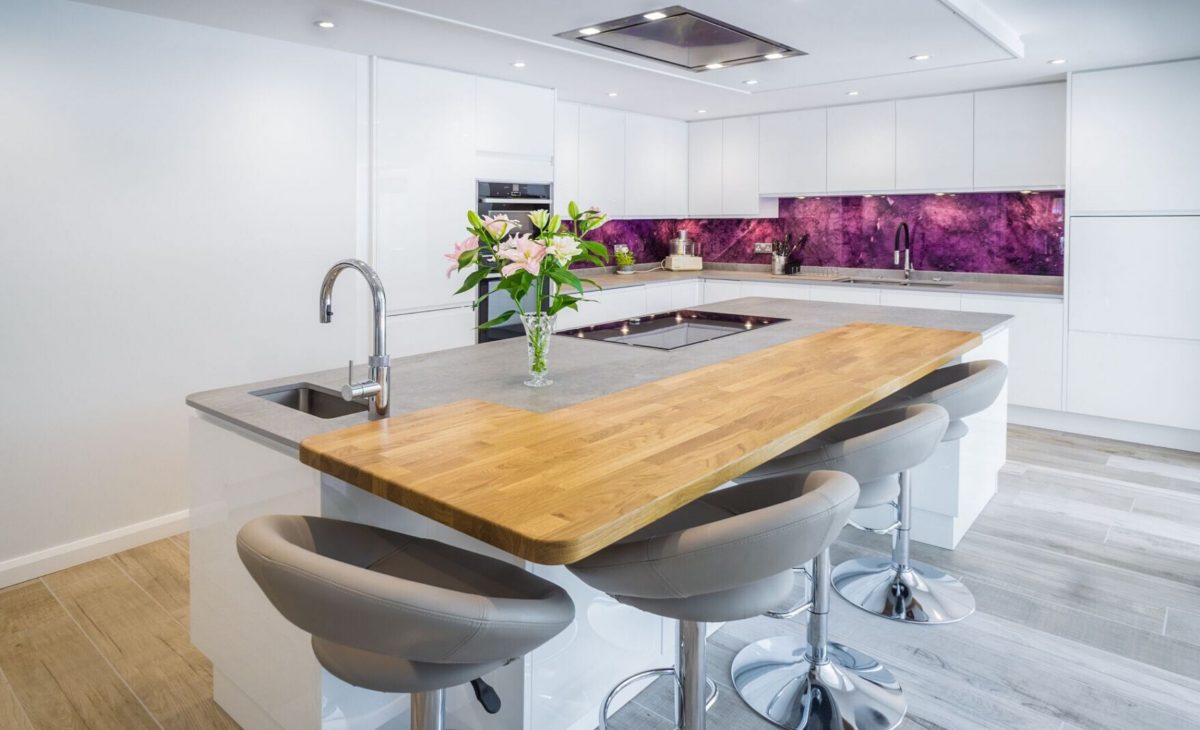 At HKS we've been bringing beautiful kitchens to clients across Sussex since 1982 and having seen a range of trends come and go, we understand exactly what it takes to create an exceptional interior that looks stylish and sophisticated for years to come. If you'd like to find out more about how our experienced team can create the perfect colour scheme for your new kitchen then please click here to find your nearest showroom or email us at sales@hks-uk.com.