The kitchen is one of the most important rooms in our home and, as well as using it for cooking, it's at the heart of our social lives, providing a place to spend time with friends and family.
A recent study has shown that, on average, we spend more time in our kitchens than we do in our living room. Making the right decisions when it comes to designing your new kitchen is absolutely essential in order to create a space that will be enjoyed by all the family for years to come.
While some kitchen trends will come and go, others are set to stay. To help you get the most from your new space, our design experts at HKS have put together a selection of inspiring kitchen ideas that will create a beautiful, practical and wonderfully timeless kitchen.
Shaker Style Cabinetry
Shaker cabinetry is one of the most popular kitchen styles available. It was designed over 300 years ago and so it's fairly safe to say it has stood the test of time and will continue to do so. The simple yet elegant picture frame construction is synonymous with classic charm and sophistication and, with a range of wonderful colours and finishes, it can look spectacular in both modern and traditional homes. Not only do shaker kitchens look incredible, but they are also practical and durable for long-lasting style.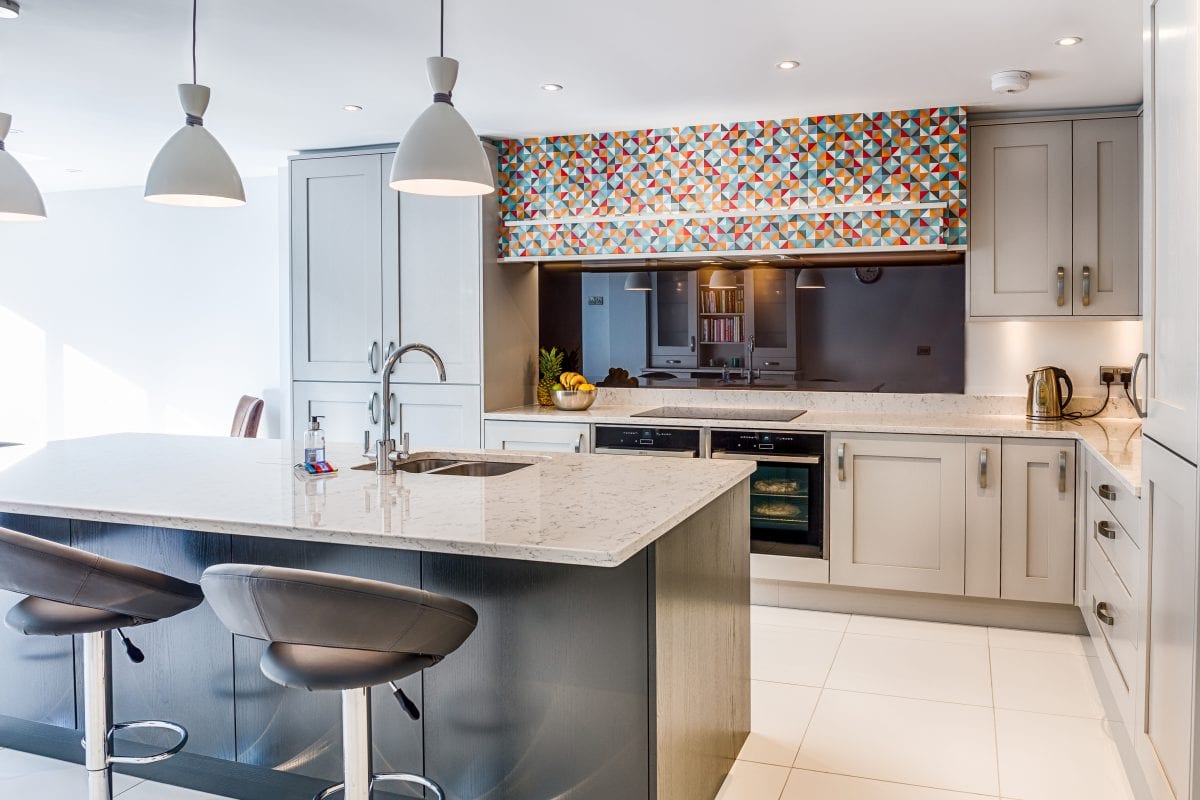 Stylish Colour Choices
Dark and moody hues have been increasingly popular with our clients over the past few years and while it can seem like a dramatic choice, a bold colour can bring real character and depth to a larger space. Two-tone colour schemes are the perfect way to introduce a strong shade without overwhelming your kitchen and can make a fantastic statement when used to emphasise design features such as an island. A stylish navy blue looks sophisticated paired with traditional shaker cabinetry. Neutral and monochrome tones are also excellent choices for creating a truly timeless interior, consider a graceful soft grey or bright and fresh white.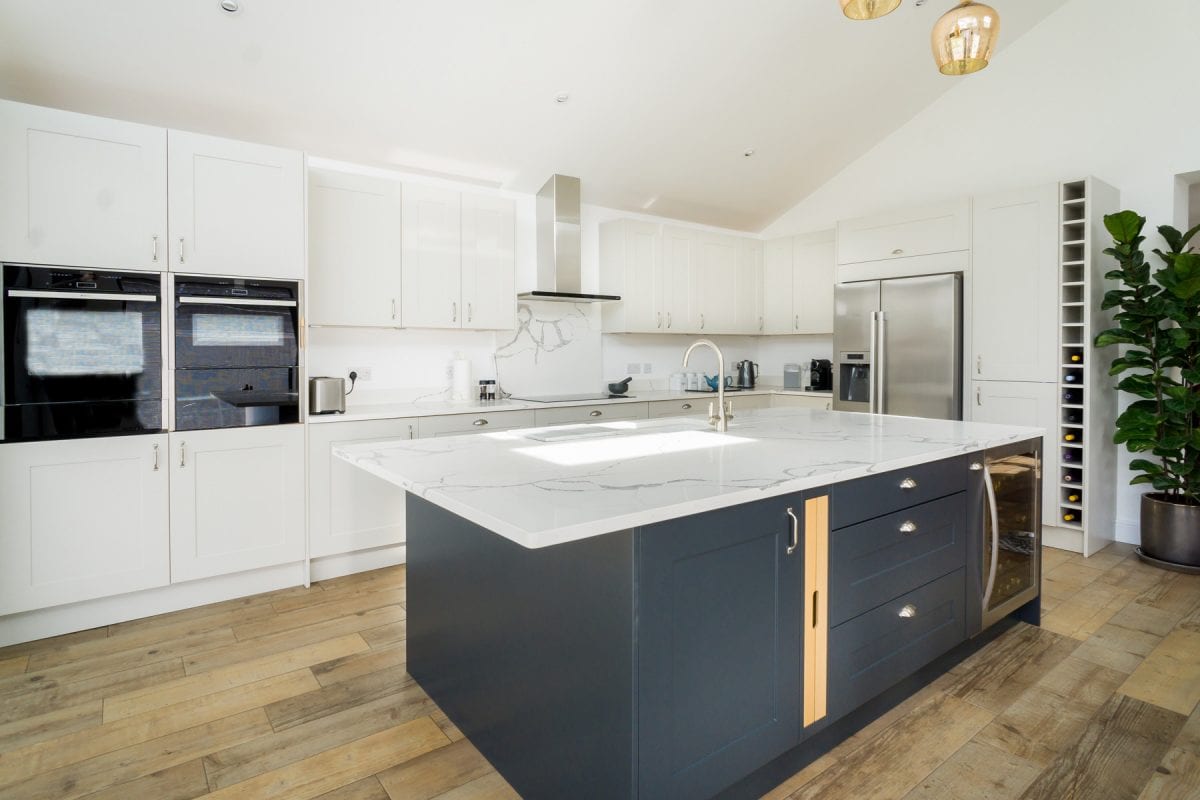 Tile Backsplashes
With a huge variety of colours, finishes, shapes and patterns to choose from, tile backsplashes can be a superb way to give your kitchen a personal finishing touch. A geometric design creates a stylish contemporary feel whilst a vintage subway tile will bring a more classic and refined edge to your interior. Tiles are a fantastically versatile way to elevate the look of your space and also offer a practical solution to keeping messy areas clean and protected.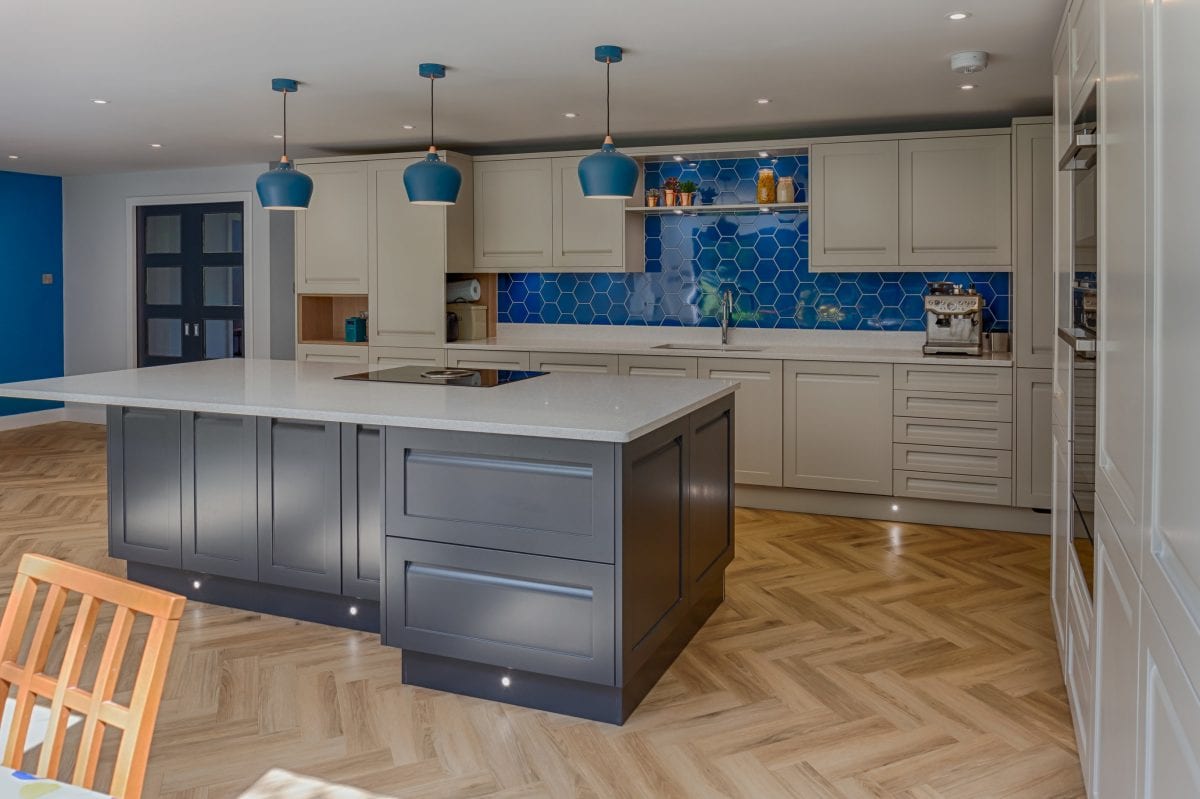 Flawless Quartz Worktops
Tough, durable, stain-resistant and easy to maintain, a quartz worktop is a brilliant choice for a kitchen that stands the test of time. As well as being one of the most practical worksurfaces available, its subtle shimmer and quality feel make it a beautiful and luxurious addition to your design. A white worksurface will help to reflect light into your space making the room feel bright and open. You will also find the fresh tone perfectly complements any colour scheme.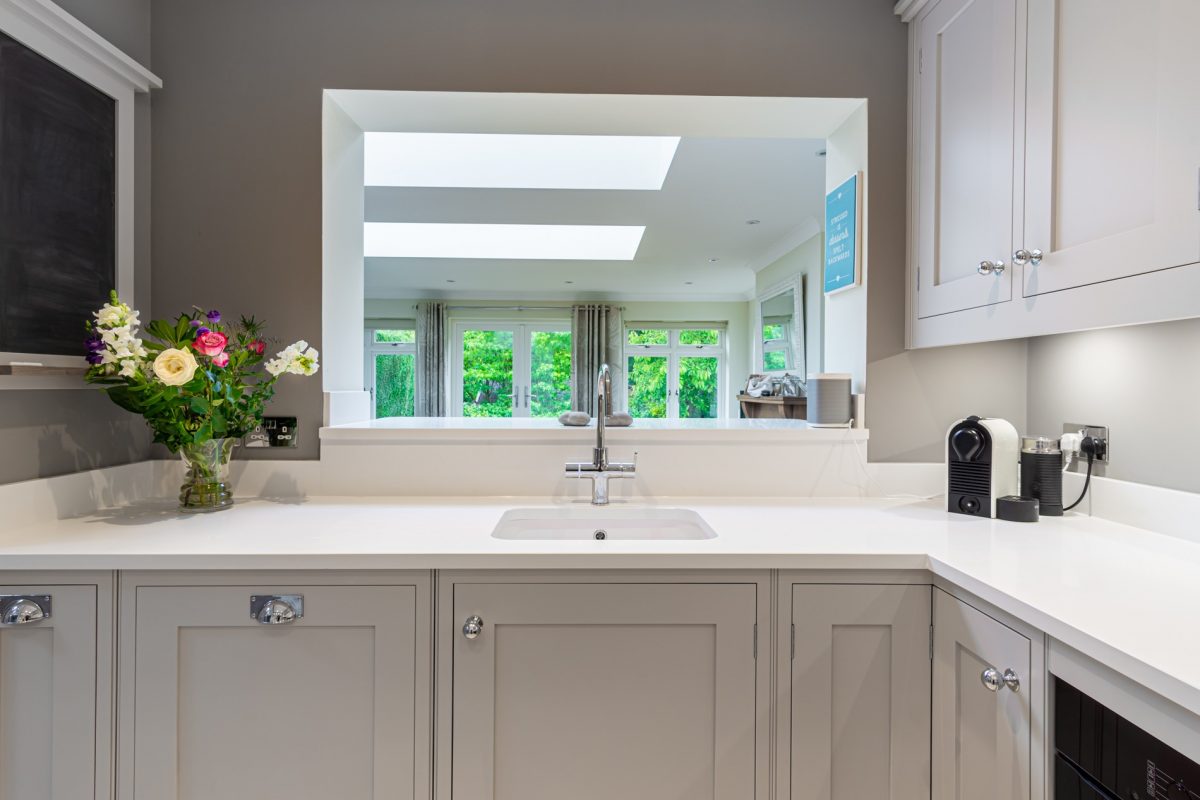 Kitchen Islands
A luxury kitchen simply isn't complete without a stunning kitchen island. Their architectural form creates a dramatic presence and offers an ideal feature for enhancing your design with accent lighting and contrasting worksurfaces or cabinet colours. Positioned centrally, an island makes a wonderful focal point for guests to gather and socialise. The addition of seating creates a welcoming and relaxed atmosphere.
Not only do kitchen islands look exceptional, but they also offer outstanding functional advantages such as extra storage, worktop space and potential for additional appliances. With a host of practical and stylish benefits, kitchen islands are definitely here to stay.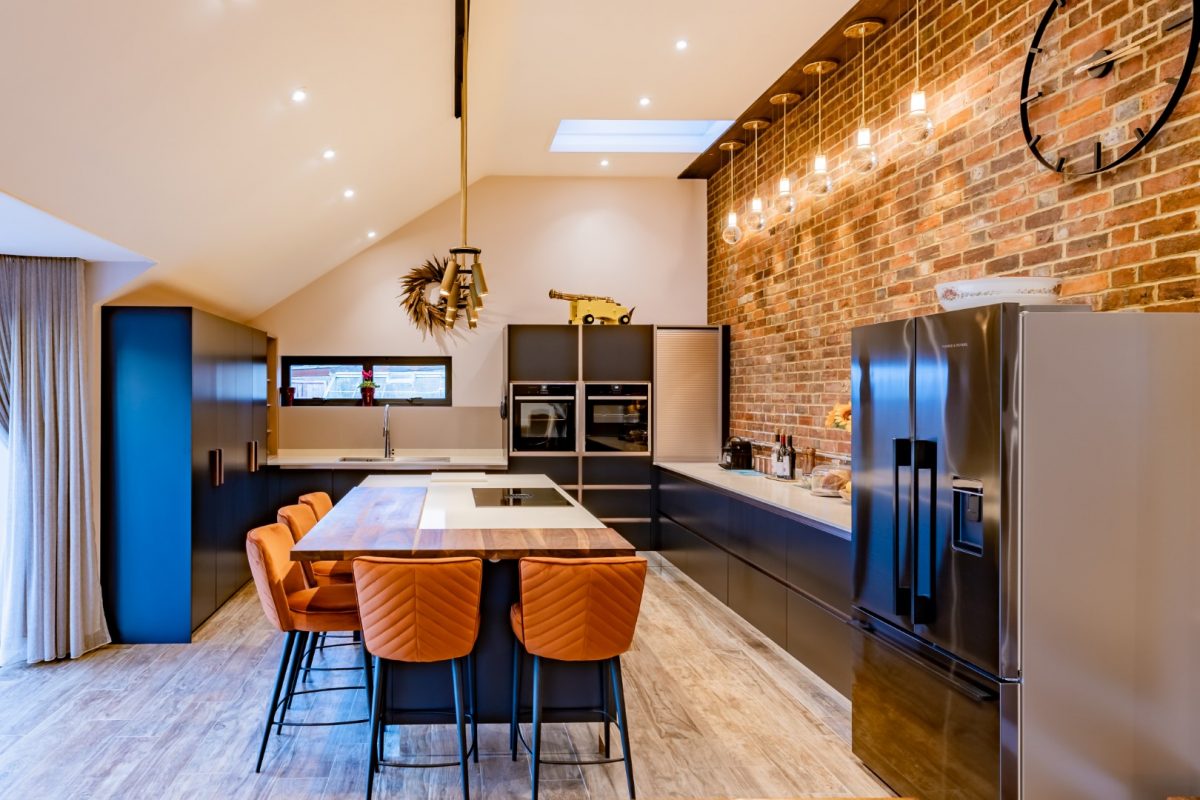 Practical Deep Drawers
When it comes to creating a timeless kitchen, it's not just looks that are important to consider; the functional abilities of your kitchen are equally key to its success and longevity. Over the years of designing and installing kitchens, we have observed simple techniques for improving the usability of your space and a great option is to include plenty of deep drawers in your design. Deep drawers allow you to access pots, pans, crockery and cooking ingredients quickly and conveniently and are often a more effective use of space than cupboards. For optimum efficiency, make sure you establish the perfect balance of storage types to suit your lifestyle.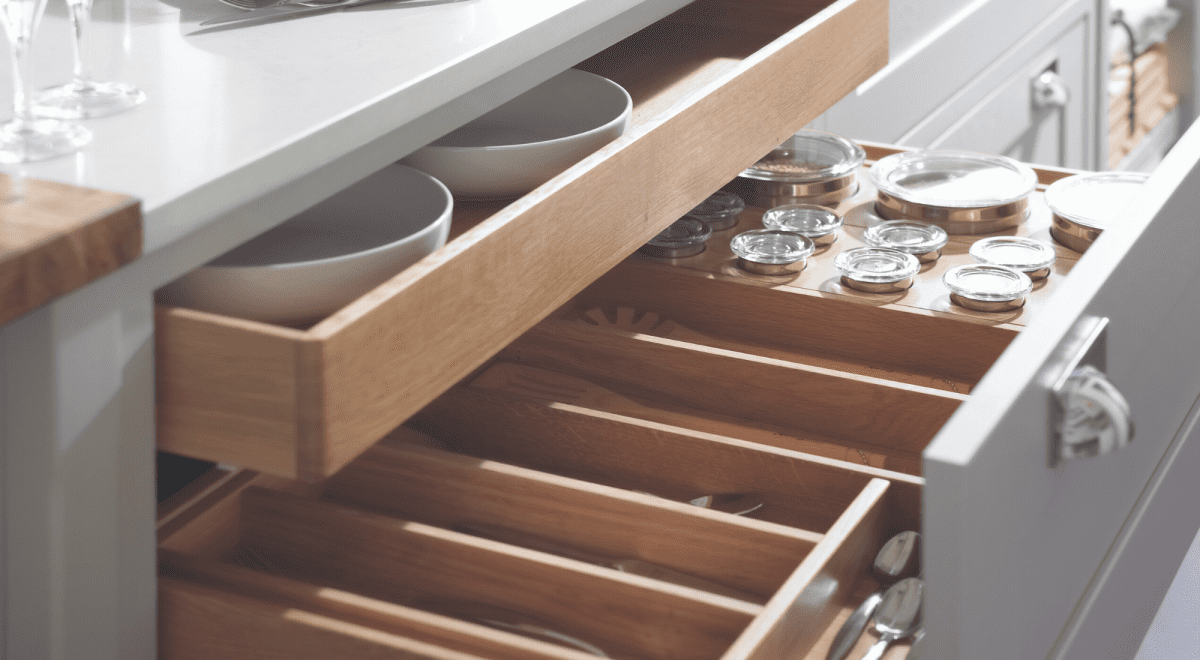 We hope that these ideas have helped to give you inspiration for your new project, however, if you would like to know more about creating a timeless space, please feel free to contact our team at HKS. We would be delighted to hear about your project and our team would be delighted to offer some suggestions as to how you can include these features in your own design. You can contact you local HKS showroom now by clicking here.