Bathrooms are unlike any other room in our homes, they must be incredibly practical and durable but should also provide a perfect retreat for relaxation, and in a small space, this can be challenging to achieve. At HKS, we've been designing and installing gorgeous Sussex bathrooms that do just this for almost 40 years and so we know exactly what it takes to create a space that's both functional and luxurious. To help you get the most from your Sussex home, our expert designers have put together some tips and advice on how to maximise a small bathroom to create a sumptuous and remarkably efficient interior.
Create Optical Illusions
There are plenty of interior design techniques that are perfect for employing in a small bathroom and they can be used subtly and stylishly to trick the eye into thinking the room is more spacious. Consider opting for the same finish on your bathroom floors and walls. Seamlessly enveloping your space in the same material blurs the boundaries of each surface making the room appear larger and, what's more, choosing soft natural stone tiling will create a really luxurious spa-like feel.
Similar principles apply to your choice of shower screen. As a general rule, the less fussy or unnecessary detailing in your design the more clean and spacious your bathroom will look. A sleek seamless glass shower screen with minimal detailing will prevent any interruption to the rest of your design allowing the key features to really stand out.
Contemporary floating furniture is also a clever way to accentuate your floor space while gaining much-needed storage. Position LED strip lights below a floating vanity to add an opulent warm glowing effect. These space-enhancing design choices are also great from a practical perspective as they are very easy to clean and maintain!
Luxurious Bathroom Décor
Having a small bathroom doesn't mean you have to compromise on the visual appeal of your design and you certainly shouldn't be tempted to scrimp on the luxury! Bright, fresh and clean colours are ideal for making a space feel airy and open, however, be wary of opting for all-white everything as this can appear cold and uninviting. Natural textures such as wood effect vinyl flooring, freestanding wood furniture, textiles and stone tiles can all help to add warmth and depth to a white bathroom palette.
In a small bathroom, you can make a wonderful impact with the finer details that might otherwise be lost in a larger space. Choose stylish black or gold fittings to make a luxurious statement. Creating a cohesive look is important in a small bathroom, so be sure to consider your choice of furniture, taps and shower fittings carefully.
Mirrors offer amazing potential to make a bold impression in a small bathroom. They are of course well known for their ability to bring additional light into a room, however, choosing a mirror in a quirky round or geometric shape or opting for something with a striking border is a fantastic way to make the most of both their practical and stylistic capabilities.
Making The Most Of Tricky Architecture
Small bathrooms often come with their own unique structural features and these aren't always conducive to the simplest design but please don't despair! If you have tricky architectural features such as unusual alcoves, sloping ceilings or different height floors, we would always recommend you speak to your local independent bathroom retailer. As bathroom specialists, we are experts in finding bespoke, tailormade solutions for your space. We worked together with our manufacturers Aquata to create this custom shower screen to fit with our Burgess Hill client's loft bathroom, you can find out more about this project by clicking here. This bespoke design really maximises the use of space in this interior.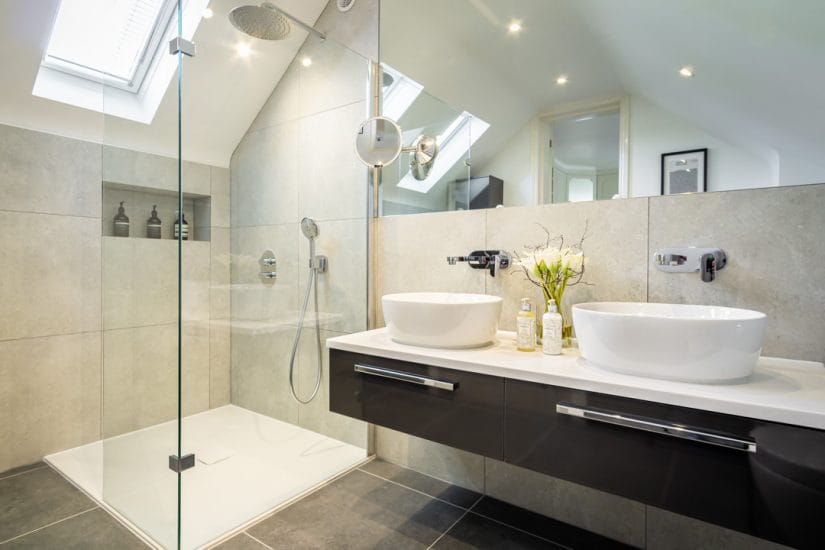 Making The Most of Storage in A Small Bathroom
Bathroom storage is undeniably essential. No matter the size, a cluttered bathroom is a pain to clean, inefficient to use and frankly far from relaxing. In a small bathroom, of course, you will have to think more cleverly about how you can achieve the level of storage required. Opting for a sink with a vanity unit is a must. An under-sink vanity makes use of often wasted space and drawers are ideal for providing quick and easy access to daily essentials such as toothpaste and lotions. Wall-mounted taps will also help keep the surfaces around your sink clear, tidy and easy to wipe clean.
When creating the vision for your bathroom, consider areas where you may be able to introduce bespoke alcoves or open shelving. If you decant cotton wool pads or lotions into glass jars, they will look attractive and stylish placed alongside your favourite candles or ornaments. Jute baskets can also provide a simple yet effective storage solution when space is at a premium. You can find more inspiration by clicking here to browse our bathroom gallery.
Small bathrooms are a reality for many, and they certainly shouldn't mean compromising on style or practicality. If you'd like to find out more about how you can transform a small bathroom you can get in touch with our design experts at HKS by calling us on 01435 866166 or emailing sales@hks-uk.com. Though our showroom is currently closed we would be delighted to invite you for a virtual design appointment